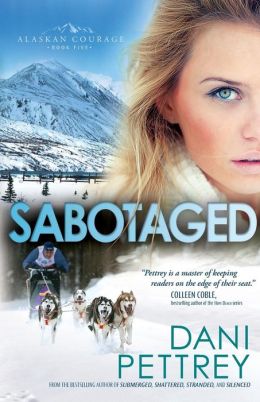 Overview
:
Finally Returned Home, Reef McKeena
Finds His Beloved Alaska Facing Its Greatest Threat
Growing up, goody-two-shoes Kirra Jacobs and troublemaker Reef McKenna were always at odds. Now, working together as search-and-rescue for Alaska's arduous Iditarod race, a growing attraction seems to be forcing aside old arguments. Then Reef catches Kirra sneaking from camp in the middle of the night.
Kirra's uncle, a musher in the race, has disappeared. Kirra and Reef quickly track the man, but what they discover is harrowing: Frank's daughter has been kidnapped. Kirra and Reef, along with the entire McKenna family, are thrown into a race to stop a shadowy villain who is not only threatening a girl's life--but appears willing to unleash one of the largest disasters Alaska has ever seen.
ISBN-13: 9780764211966
Publisher: Baker Publishing Group
Publication date: 2/3/2015
Series:
Alaskan Courage Series
, #5
Pages: 336
My Review: I absolutely loved this book. I hated putting it down for even a minute! Action-packed from the very beginning, Dani Pettrey captures the adventurous spirit of our hero, Reef, perfectly. The Iditarod race provided the perfect background for the story and brought to light the amazing setting that is Alaska. The plot was fast-moving, well-developed, and amazing. I love that Dani incorporates all of the McKenna clan in each book, but this can definitely be read as a stand-alone.
The characters are fantastic. This book focuses on Reef, the wayward, wild, crazy brother (who makes his first appearance in Shattered). We get to see a new side to him, and it makes me love him so much more. Kirra is the perfect girl for Reef. She is adventerous, strong, and stubborn enough to test him, but vulnerable and sweet enough to make Reef better. I loved their story and who they became together.
The message of the story focuses on letting go of your past and focusing on the future. Dwelling on our past isn't what God wants us to do, even if our pasts are difficult. With His help, we can face the past, and move on. "Love in the difficult parts of life. God in them - in the sorrow and the pain." God knows the plans He has for our future, and that can give us hope!
Overall, this book was the perfect ending to a fantastic series. I was SO excited to receive my copy and a little sad at the same time. Our time with the McKenna's has ended, but I can't wait to see what else Dani Pettrey has in store for us!
**Thank you Bethany House for providing me with a free copy of this book in exchange for my honest review.**
View my reviews of the other books in the Alaskan Courage Series:
About the Author
: Dani Pettrey is a wife, home-schooling mom, and the acclaimed author of the romantic suspense series Alaskan Courage, which includes her bestselling novels
Submerged
,
Shattered
,
Stranded
, and her latest release,
Silenced
. She feels blessed to write inspirational romantic suspense because it incorporates so many things she loves–the thrill of adventure, nail biting suspense, the deepening of her characters' faith, and plenty of romance. She and her husband reside in Maryland, where they enjoy time with their daughters, son-in-law, and super adorable grandson. Find Dani on
Facebook
or
Twitter
.