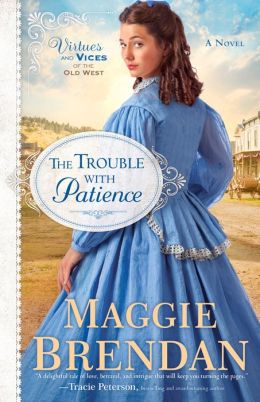 Overview
: Patience Cavanaugh has lost hope in romance. The man she yearned to marry is dead and her dreams are gone with him. Now she is consumed with the restoration of a dilapidated boarding house in order to support herself. Despite her desire for solitude, Jedediah Jones, the local sheriff with a reputation for hanging criminals, becomes an ever-looming part of her life. It seems like such a simple arrangement: Patience needs someone with a strong back to help her fix up the boardinghouse, and Jedediah needs a dependable source of food for himself and his prisoners. But Patience gets more than she bargained for as she explores the depths of the "hanging lawman"--and finds both betrayal and love.
With a keen eye to historical detail and a deft hand at romantic tension, Maggie Brendan invites readers to a Montana gold rush boomtown, where vices and virtues are on full display and love is lying in wait.

My Review: A quaint story in a quaint town, with lovable characters. I enjoyed this story. All aspects of the plot were neatly and properly tied up and completed before the end of the story. The story flowed well and was pleasant. That being said, there wasn't a lot of action where there could have been.

We really only get to know the characters on a surface level. While I can tell they develop and change their thinking throughout the story, it's not really on a level that I got emotionally attached to the characters. I really liked Patience and Jed, Emily, Hannah, Cody, and Joe. They were sweet characters. I also felt like the romance between Patience and Jed is kind of forced. It doesn't seem a deep love develops between them.

The message of the story is perfectly summed up in the verse at the beginning of the book. "A gentle answer turns away wrath, but a harsh word stirs up anger." - Proverbs 15:1 (NIV) All through the story, the characters are working to please the Lord with their tempers and tongues. Patience is the best model for this virtue throughout the story.

Overall, this was a sweet story with likeable characters and an enjoyable plot.


*I received a complimentary copy of this book from the publisher through the Revell Reads blogging program in exchange for my honest review, which I have given.*
About the Author
: Maggie Brendan is a CBA bestselling author, and has sold over 300,000 books of historical romance. She is a winner of 2014 Book Buyers Best/ OCC/RWA -inspirational, 2013 Laurel Wreath Award, was a 2013 finalist for the Published Maggie Award of Excellence, a 2014 and 2013 finalist for the Heart of Excellence Readers' Choice Award, a 2012 finalist for Inspirational Reader's Choice award and a recipient of the 2004 ACW Persistence Award in Atlanta. She is a member of the American Christian Fiction Writers (ACFW), The Author's Guild, Romance Writers of America (RWA), Faith, Hope and Love, and Georgia Romance Writers. Maggie's series are Heart of the West and The Blue Willow Brides and Virtues and Vices of the Old West. The Trouble with Patience, book one in a new series, of Virtues and Vices of the Old West will release in February, 2015. You can follow Maggie on her website
www.MaggieBrendan.com
, her blog
www.SouthernBelleWriter.blogspot.com
,Twitter @MaggieBrendan and Facebook
https://www.facebook.com/MaggieBrendan?ref=hl
.