Howdy folks! I'm writing my first review from my brand new MacBook Pro! It's taking some getting used to. It is DEFINITELY not anything like my old Windows computer. I am excited to announce that I was accepted into the BookSneeze blogging program! This is my first book from the program, and I couldn't have picked a better one. I was a little leery as the first Robin Lee Hatcher book I read, I don't remember particularly caring for. I was not disappointed with this one. This is the third book in the
Where the Heart Belongs
series, but I did not need to read the first two books to get into the story.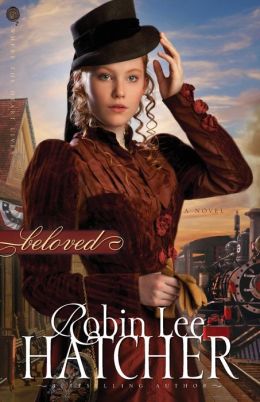 Overview:
A most unwelcome guest surprises Diana at her engagement party---the husband she thought was dead! Diana Brennan came west on the orphan train and was given a home with a loving couple who cherished and spoiled her. At 17, she fell hard for Tyson Applegate, the son of a wealthy mine owner. After a whirlwind courtship and marriage, Tyson took o for adventures around the world, including fighting with the Rough Riders in Cuba. Receiving no word of him in years, Diana is ready to move past the old pain and marry again, just as soon as Tyson is declared legally dead.
But when Tyson returns, supposedly a changed man, he wants to reunite with his wife and run for the senate. While Diana suspects the election is his real reason for wanting her by his side, she agrees to maintain his home and to campaign with him, but when it is over, win or lose, she wants her freedom.
He agrees with one condition---she must give him a chance to change her mind about him.
My Review
: This was a fantastic book. I loved the characters. Tyson Applegate knows he messed up. He knows he made a lot of mistakes in his past, including deserting his wife, Diana. Seven years after leaving, Tyson shows back up a changed man. Diana Applegate thought she'd gotten over Tyson after he was declared dead three years ago. So, imagine her shock when he shows up alive and well on the night of her impeding engagement. Diana is skeptical of Tyson, as any woman who had undergone what she had would be. What will it take for Tyson to prove himself a changed man to Diana?
The story is interesting. It was easy to follow and intriguing. I loved watching the change in Diana and Tyson's relationship. I loved how easily Tyson fell back in love with his wife and tried everything he could to win her affection and trust. I also like how the author provided the flashback scenes. It helped put everything into perspective. It allowed me to understand what the characters were feeling and why they acted the way they did.
The characters learn several lessons throughout the book about pride, letting go of control and giving it to God, and learning to trust that God has them in His hands. Overall, I would definitely recommend this book to anyone to read! I will definitely want to read the first two books in this series, and I want to go back and re-read the other book I read in the past. I have a new respect for Robin Lee Hatcher and can't wait to immerse myself in more of her books!
More fun, with links!
**I received this book for free from BookSneeze in exchange for an honest review.**