I sat down to do this review, and ended up writing a little memorial for my hero,
PFC James Fleet McClamrock
. I didn't feel like the review should go on the same post, so here I am! I finished
Blue Moon Promise
in a weekend. It was
that
good. I won't keep you in suspense any longer! Here's my review: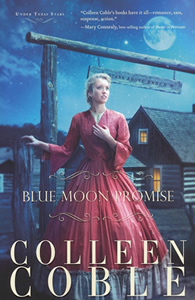 A love like Lucy and Nate's only comes along once in a blue moon . . .
Lucy Marsh has lost everything but her determination to provide for her brother and sister. When she realizes her father's death was no accident, she decides to accept a proxy marriage in order to get her siblings out of harm's way. But trouble follows her to Wichita Falls, Texas, and nothing there is as she expected. Not the man she came to marry nor the family ties she'd hoped to find. Can it be true that real security is in letting go of her own strength and trusting in the One who is far stronger than she?
Nate Stanton always knew he'd marry someday, but he planned to find his own wife. The woman his father deposits on his doorstep is not the kind of wife he had in mind. She knows nothing about ranching, and she brings two siblings with her in the bargain. He moves her into a tiny cabin and expects her to run back to Chicago, but Lucy is made of sterner stuff than he imagined. And when danger moves in, he realizes he'd give anything to protect her and the children he has grown to love. Even if it means giving up his ranch.
My Review
:
"A man's heart deviseth his way: but the Lord directeth his steps." Proverbs 16:9
Colleen Coble is a fantastic writer. Her stories have a way of pulling you in. They don't let you go until the very end. This book is no different. While the mystery and romance are not as prominent as some of her stories, the book is still fantastic. Lucy is beautiful, strong-willed, independent, and likes to have everything under control. She is a "control freak" to a fault. When she's left caring for her two younger siblings, she'll do whatever it takes to keep them together. Even if if means marrying a man, sight unseen. Nate does not want a wife. He wants to ranch, grow his cattle business, and be left alone. That is, until Lucy comes to Stars Above Ranch. Everything changes.
The story progresses in a way that allows the author time to develop the characters we've met, while still keeping the mystery and intrigue alive.We see their struggle to let go of control and let love in. We see Lucy's strong desire to be loved. We see Nate's denial of his loneliness. We also see them both try to deny, then control the sparks that fly between them. There are still parts of the mystery that come into play. It's never far from either character's mind that trouble is coming. Little things happen that make your skin crawl! It's what Colleen Coble does best.
Overall, the story was a satisfying read. The message of the story is summed up in the "Dear Reader" note by Colleen at the beginning of the book. Who has control of your life?
Let go, and let God.
I absolutely loved it, and look forward to reading the next book in the
Under Texas Stars
series,
Safe in His Arms
.
More fun! with links:
Have a great week! I hope you enjoyed this review!
Upcoming review: Born of Persuasion by Jessica Dotta