Happy Saturday everybody! I have had an excellent day so far. We had our third annual "Run with the Cows" 5K, 10K, Fun Run/Walk fundraiser for
New Sterling A.R.P Church
's missions. I did not run the 5 or 10K, but had a great time walking with my sister, my soon-to-be cousin (in law?) and their babies! It was nice to come home, relax, and read a great book.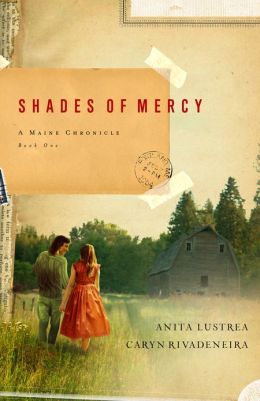 Overview
:
It's 1954 and the world-even the far Northwoods of Maine-is about to change. But that change can't happen soon enough for fourteen-year-old Mercy Millar. Long tired of being the "son" her father never had, Mercy's ready for the world to embrace her as the young woman she is-as well as embrace the forbidden love she feels.
When childhood playmates grow up and fall in love, the whole community celebrates. But in the case of Mercy and Mick, there would be no celebration. Instead their relationship must stay hidden. Good girls do not date young men from the Maliseet tribe. At least, not in Watsonville, Maine. When racial tensions escalate and Mick is thrown in jail under suspicion of murder, Mercy nearly loses all hope-in love, in her father, and in God himself.
My Review: I am so glad I read this book. Mercy is a naive fifteen year old girl who you can't help but love. She is smart, passionate, tough, and caring all rolled into one. Mick is tough, determined, and has been through more than any 15 year old boy should have to go through in his short life. It makes him seem kind of jaded, except when he's with Mercy. Their love has to remain hidden because Mercy is white and Mick is a Maliseet Indian. I loved all the characters in this book. Mercy, Mick, Mother, Mr. Pop (so cute!), and all of the workers and secondary characters. They were very well written and developed.
The year is 1954. Race issues are just beginning to surface and fester with the passing of Brown vs. Board of Education. Mick and Mercy are just two teenagers, in love, trying to find their place in their dramatically changing world. This is a sweet story, with dark, hard issues. I love how this book was written! Most books focus on the negative of the circumstances surrounding racial relationships. This book, in my opinion, took a different approach. It gave me hope that one day, everything would work out for Mick and Mercy. When dealing with hate, disillusionment, and other deep seeded issues, books can tend to take on a very dark tone. These authors did a great job of finding the light in the dark.
Overall, I thought this was a quick, easy read. I understood the title about halfway into the story. As the book states: "That's where the grace--where all those shades of mercy show up in life," when you realize your mistakes, ask for forgiveness and try to live like Jesus wants as much as possible. I would recommend this to everyone!
**I received this complimentary copy of Shades of Mercy from River North Fiction from Moody Publishers. I was not required to provide a review. All opinions expressed are my own.**