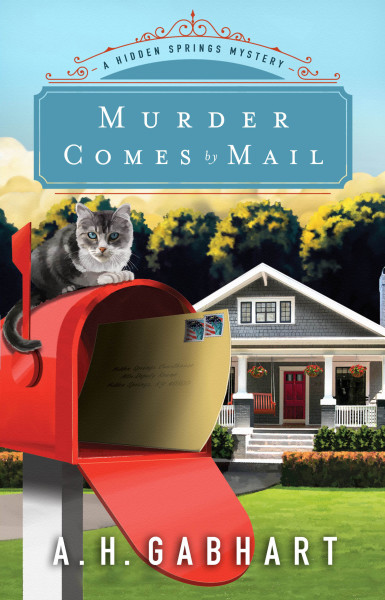 Murder Comes By Mail
A Hidden Springs Mystery, Book 2
ISBN-13: 978-0800727055
Baker Publishing Group, May 2016

Deputy Sheriff Michael Keane doesn't particularly enjoy being touted as the hero of Hidden Springs after pulling a suicidal man back from the edge of the Eagle River bridge in front of dozens of witnesses–a few of whom caught the breathtaking moments with their cameras. But the media hype doesn't last long as a new story pushes its way into the public consciousness of Hidden Springs' concerned citizens.

Photos of a dead girl arrive in the mail, and Michael becomes convinced she was murdered by the man he saved. With a killer one step ahead, things in Hidden Springs begin to unravel. Now Michael must protect the people he loves–because the killer could be targeting one of them next.

Readers will love racing along with Deputy Sheriff Keane as the clock ticks in this page-turner.


My Review
: This is such a cozy, easy read mystery. It is unique, at least to me, in the fact that it is told exclusively from the hero's point of view. I've read very few books that are from only the male's point of view. The simplicity in which this book is written gives the book a down to earth feel. I loved the small town feel of Hidden Springs.
As for the characters, they are highly entertaining. They are everything I picture small town folks to be. Each person plays a role in solving the deadly game that has been foisted upon Deputy Sheriff Michael Keane, and sometimes it's quite humorous. Throughout most of the story, we see Michael struggling to let go of his worries so God can work in and around his life. Every Christian can relate to that same struggle (or at least I can)!
Overall, I really enjoyed this sleepy town novel, full of fun, loving people with good intentions and a deadly plot that will keep you guessing until the very end. (Note: this is the second book in the
Hidden Springs Mystery
series, but it can be read stand alone.)
*I received a complimentary copy of this book from the publisher through the Revell Reads blogging program in exchange for my honest review, which I have given.*
Ann H. Gabhart is the bestselling author of Angel Sister, Small Town Girl, and Words Spoken True, as well as several Shaker novels--The Outsider, The Believer, The Seeker, The Blessed, and The Gifted--and The Heart of Hollyhill series. She lives with her husband a mile from where she was born in rural Kentucky.