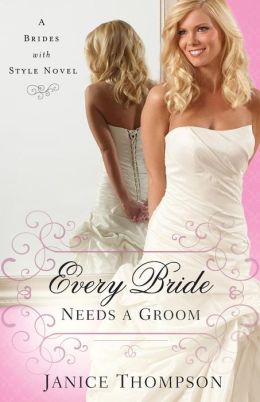 Overview
: Small-town girl Katie Fisher is planning her wedding. Sure, her boyfriend hasn't managed to pop the question just yet, but that doesn't mean she shouldn't enter a contest in Texas Bride magazine to win the dress of her dreams, right? But when her boyfriend breaks up with her and takes a job in another town–the very same day Katie wins her dream dress–her world is turned upside down. Should she claim her prize? And will the hunky former pro-basketball player who runs the swanky Dallas bridal shop–yeah, you read that right–catch on to her humiliation if she does?
ISBN-13: 9780800723996
Publisher: Baker Publishing Group
Publication date: 4/21/2015
Pages: 368
My Review: Any book that starts with "that whole thing about being a big fish in a small pond is more than just a saying, at least in my neck of the woods," is going to be a great book in my opinion! And this is definitely a great book! I loved it from start to finish. The description of the setting made me want to come to dinner at Sam's with Queenie and the whole Fisher gang. The story elicited Southern Charm from beginning to end, and I loved every minute of it!

Katie Fisher is beauty, grace, and humbleness rolled into one young lady that only a small town can produce. I loved her character. She was witty, smart, funny, and had a strong faith that she tried to live every day. Brady James is a down to earth pro basketball player that has no problem showing his Faith to the world. With sparks flying from the very start, how could I not enjoy this sweet love story! Madge, Twiggy, Courtney, and Dahlia provided excellent secondary characters and their antics had me rolling!

The message of the story was incorporated very well. "Don't worry about what hasn't happened. Set your sights on what's gonna happen." Sometimes, as Christians, we get so ahead of ourselves, wanting what we don't have or waiting for something that might not even happen. Slow down! Embrace what God has for you in this moment, but don't get stuck in a rut. Keep growing and changing. Don't become stagnant. Most of all, follow the path the Lord directs you to follow.

Overall, if you're looking for a faith based, sweet southern charm story, this is the one for you.


*I received a copy of this book from the publisher through the Revell Reads blogging program in exchange for my honest review.*
About the Author
: Award-winning author Janice Thompson also writes under the pseudonym Janice Hanna. She got her start in the industry writing
screenplays
and
musical comedie
s for the stage. Janice has published over ninety books for the Christian market, crossing genre lines to write cozy mysteries, historicals, romances, nonfiction books, devotionals, children's books and more. In addition, she enjoys editing, ghost-writing, public speaking, and mentoring young writers. Janice formerly served as Vice-President of CAN (
Christian Authors Network
) and was named the 2008 Mentor of the year for ACFW
(American Christian Fiction Writers
), where she has finaled multiple times in the prestigious
Carol Awards
. She was thrilled to be named the 2010
Barbour/Heartsong
Author of the Year
, with three books on the top ten list for that house. Janice is currently the vice-president of her local writing group,
Writers on the Storm
, where she regularly teaches on the craft of writing. Her
online writing course
s have been helpful to many who want to earn a living with their writing. She also shares her love of writing in her monthly column at
CFOM
(Christian Fiction Online Magazine). Janice is passionate about her faith and does all she can to share the joy of the Lord with others, which is why she particularly enjoys writing. She lives in Spring, Texas, where she leads a rich life with her family, a host of writing friends, and two mischievous dachshunds. She does her best to keep the Lord at the center of it all. You can find out more about Janice at
www.janiceathompson.com
or
www.freelancewritingcourses.com
.