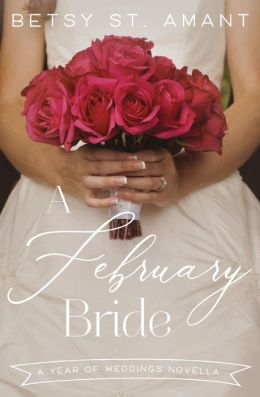 Overview
:
Allie left the love of her life at the altar—to save him from a lifetime of heartbreak. When a Valentine's Day wedding brings them back together, she struggles against her family's destructive history. Can Allie ever realize that a marriage is so much more than a wedding dress?
History repeats itself when Allie Andrews escapes the church on her wedding day—in the same dress passed down for generations and worn by all the women in her family—women with a long history of failed marriages. Allie loves Marcus but fears she's destined to repeat her family's mistakes. She can't bear to hurt Marcus worse.
Marcus Hall never stopped loving Allie and can only think of one reason she left him at the altar—him. When the two are thrown together for his sister's Valentine's Day wedding, he discovers the truth and realizes their story might be far from over. Can Allie shuck expectation and discover who she is as a bride and in the Bride of Christ? And if she ever walks down the aisle, what dress will she wear?
ISBN-13: 9780310338291
Publisher: Zondervan
Publication date: 1/28/2014
Series:
A Year of Weddings Novella
, #2
Sold by: Zondervan Publishing
Format: eBook
Pages: 116
My Review
: This was such a cute story. Oh my soul - Marcus is a man of gold. There are not many men who would not harbor resentment and anger toward their betrothed if they were left standing at the alter! I really enjoyed watching Allie and Marcus fight their attraction for one another throughout the story and I just KNEW they would get back together. Allie's belief in her cursed dress and family failings is relatable. A lot of people think because generation after generation does one thing, they are destined to do it as well. The cycle can be broken with God and faith! Overall, I enjoyed this sweet story! I look forward to reading more by Betsy.
About the Author
: Betsy St. Amant has a heart for three things – chocolate, new shoes and sharing the amazing news of God's grace through her novels. She lives in Louisiana with her adorable story-telling young daughter, a collection of Austen novels, and an impressive stash of Pickle Pringles. A freelance journalist and fiction author, Betsy is a member of American Christian Fiction Writers and is multi-published in Contemporary Romance via Love Inspired and Harper Collins (Zondervan). When she's not reading, writing, or singing along to a Disney soundtrack with her daughter, Betsy enjoys inspirational speaking and teaching on the craft of writing. Betsy is proud to be represented by Tamela Hancock Murray of The Steve Laube Agency. Visit
www.tamelahancockmurray.com
&
www.stevelaube.com
Visit Betsy: http://www.betsystamant.com/bio/