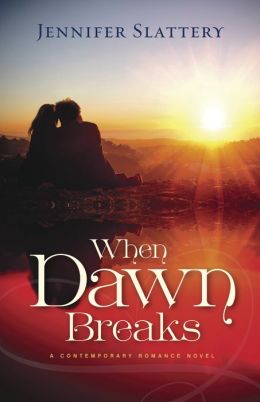 Overview
: As the hurricane forces Jacqueline to evacuate, her need for purpose and restitution forces her to head north to her estranged and embittered daughter and into the arms of a handsome new friend. Dealing with his own issues, Jacqueline isn't sure if he will be the one she can lean on during the difficult days ahead. And then there are the three orphans to consider, especially Gavin. Must she relinquish her chance at having love again in order to be restored?
ISBN-13: 9781596694231
Publisher: New Hope Publishers
Publication date: 1/28/2015
Pages: 320
My Thoughts: Jennifer Slattery is a new-to-me author. I enjoyed this story. It was unique to me, in that I've never read a book about what happens to the people after a natural disaster. It was heart-wrenching to read about Jacqueline and Gavin losing everything. The story was well-written and easy to follow, despite the fact that it was written from three points of view.

I felt like I only got to know the characters, with the exception of Gavin (maybe), on a surface level. I couldn't really connect with them. Jacqueline is a mother who, because of the hurricane, is forced to confront her past and face the daughter she abandoned. Her emotions were real enough, but didn't touch me for some reason. I should have been able to easily identify with Jonathan and his emotions, being in a very real, very similar situation, but I don't think the author dove deep enough for me to connect. Gavin, on the other hand, tore at my heart strings. I cannot imagine the horrors his young eyes saw, based on the information the author provides about his mother and up-bringing.

The message of the story was three-fold. For Jacqueline, learning to accept the grace that God gives freely after becoming a new Christian can be hard. For Jonathan, moving forward after a tragedy can be painful. But God doesn't want us to be alone, He wants us to be happy. For Gavin, accepting that YOU ARE worth something in God's eyes, when you've been told your entire life you're worthless is hard. The message was well-written and expertly weaved throughout the story.

Overall, I enjoyed this story despite the fact that I didn't connect with the characters and look forward to reading more by Jennifer Slattery.
*I received a complimentary copy of this book from the author via New Hope Publishing in exchange for my honest review, which I have given.*
About the Author
: Jennifer Slattery is an inspiring contemporary novelist whose stories of hope, love, and grace resonate with real people. A Hurricane Katrina survivor, she also writes Christian living articles for Crosswalk.com and devotions for her personal blog, Jennifer Slattery Lives Out Loud; Internet Cafe Devotions; and Takin' It to the Streets, a ministry serving Omaha Metro's working poor and homeless. When not writing, she enjoys hanging out with her teenage daughter and real-life hero husband, as well as serving in her church. She is the author of Beyond I Do and When Dawn Breaks.
http://jenniferslatterylivesoutloud.com/