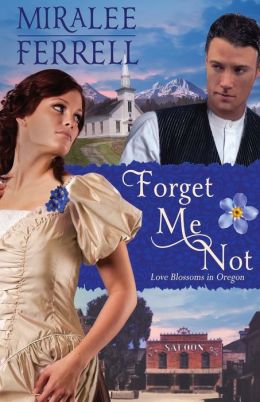 Overview
: Can a Lost Love be Redeemed?
Baker City, Oregon, 1881
Seven years ago, Julia McKenzie rejected the man she loved, wanting to experience more of life. Now, at the age of twenty-four, she regrets that decision. What will Seth think of her, when they encounter one another hundreds of miles from home? Will the man she cared for understand the direction her life has taken and love her in spite of her choices?
Pastor Seth Russell has never completely forgotten the girl he once courted. When she shows up in his new home of Baker City, all those feelings return. But why is she sneaking around town late at night? Even more important, will she reject him and break his heart again, or can God heal the breach between them?
Forget Me Not is part of the historical romance, Love Blossoms in Oregon series, published by David C Cook. This book can stand alone, but is better enjoyed when reading the series and getting acquainted with the full cast of characters from the Love Blossoms in Oregon series.
ISBN-13:
9780996006811
Publisher:
Mountain Brook INK
Publication date:
3/27/2014
Pages:
160
My Review
: What a sweet story! Not only did this novella answer questions about the compassionate pastor we meet in
Blowing on Dandelions
, but it provided a way for me to visit with all the characters from the other books in the
Love Blossoms in Oregon
series. I really enjoyed the story and I wish it were longer! However, it was well-written and naturally flowing.
I loved Julia's character. Her devotion to her calling was admirable and her struggle in dealing with hypocrites and judgmental people was very real. Seth was just what she needed! His job as a pastor and his compassion and caring nature were soothing to Julia's stubborn and independent streaks.
The message of the story was about forgiveness. There is a whole conversation in the book between Julia and Mrs. Roberts that I would love to quote because there was so much wisdom and understanding in those pages. Forgiving others for what we perceive is wrong is hard, especially because we don't want to! Think about where we would be if Jesus had that attitude? He didn't have to forgive us, but He did, and He did it freely. Isn't that amazing!
Overall, this was a great short story and fits in nicely with the
Love Blossoms in Oregon
series.
About the Author
: Miralee Ferrell is a speaker, accredited counselor, and multi-published, award winning, best-selling author of contemporary and historical romance novels. She enjoys horseback riding, gardening, and family gatherings around their eleven-acre property in Washington State. Miralee has had nine books release with a traditional publisher, and Blowing on Dandelions, her first book in the Love Blossoms in Oregon series made the ECPA Best Seller list in 2014. A family friendly, Christian movie production company is also considering one of her Love Finds You novels as a TV movie.
Facebook:
www.facebook.com/miralee
|
Miralee Ferrell's Fan Page
Twitter:
www.twitter.com/MiraleeFerrell