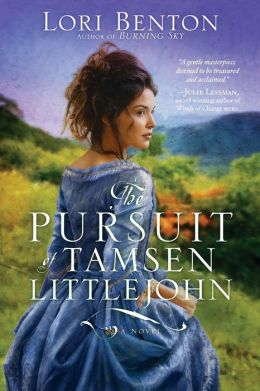 Overview
:
Frontier dangers cannot hold a candle to the risks one woman takes by falling in love
In an act of brave defiance, Tamsen Littlejohn escapes the life her harsh stepfather has forced upon her. Forsaking security and an arranged marriage, she enlists frontiersman Jesse Bird to guide her to the Watauga settlement in western North Carolina. But shedding her old life doesn't come without cost. As the two cross a vast mountain wilderness, Tamsen faces hardships that test the limits of her faith and endurance.
Convinced that Tamsen has been kidnapped, wealthy suitor Ambrose Kincaid follows after her, in company with her equally determined stepfather. With trouble in pursuit, Tamsen and Jesse find themselves thrust into the conflict of a divided community of Overmountain settlers. The State of Franklin has been declared, but many remain loyal to North Carolina. With one life left behind and chaos on the horizon, Tamsen struggles to adapt to a life for which she was never prepared. But could this challenging frontier life be what her soul has longed for, what God has been leading her toward? As pursuit draws ever nearer, will her faith see her through the greatest danger of all—loving a man who has risked everything for her?
ISBN-13:

9780307731494


Publisher:

The Doubleday Religious Publishing Group


Publication date:

4/15/2014


Pages:

400
My Review: From the first page of this book, I was captured by the story. Lori Benton is an amazing story-teller. Though there were parts in the middle that lagged a bit for me, I still enjoyed this book immensely. Tamsen's struggles and her pursuers, good and bad, made for an interesting plot line. As we move toward the end of the book, the story picks up with action, danger, and a love story that I found completely enjoyable.
Both Tamsen and Jesse face trials of their own, as well as trials together, which brought depth to each character. At the beginning of the story, we meet Tamsen, who is struggling to come to terms with who she is and what she's meant to become. Throughout the book, we see the choices she makes shaping the woman she will become. Jesse, whose story is unique, is an honorable man bent on protecting the woman he loved at first sight. Their romance was slow in coming, but sweet none the less.
There were many deep and exacting truths portrayed throughout the book. The main thought, in my opinion, is well summed up by this quote (don't worry, I took out the parts that give away the plot!): "But in time God will work even the worst things men do to us for our lasting good. Eternal good. Trust in the Almighty, in His love for you, and you'll have no need to dread anything He allows to befall you. For with a test, a trial, He gives an equal measure of grace to bear it and the comfort of His fellowship as He strengthens us. He is acquainted with suffering."
Overall, I really enjoyed this fantastic story and I look forward to reading more by Lori Benton!
**I received a complimentary copy of this book through the Blogging for Books program in exchange for my honest review, which I have given.**
Blogging for Books was kind enough to send me an e-book copy as well as a paperback copy of this book! I've decided to do an impromptu giveaway!
If you'd like to win a copy of The Pursuit of Tamsen Littlejohn, simply comment below with your name and email address (in this format: email(at)email(dot)com). A winner will be chosen Monday, July 28!
About the Author
: Lori Benton was raised east of the Appalachian Mountains, surrounded by early American and family history going back three hundred years. Her novels transport readers to the 18th century, where she brings to life the Colonial and early Federal periods of American history, creating a melting pot of characters drawn from both sides of a turbulent and shifting frontier, brought together in the bonds of God's transforming grace. When she isn't writing, Lori enjoys exploring beautiful Oregon with her husband.