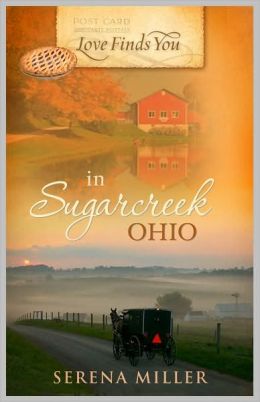 Overview
: A mysterious outsider casts a long shadow on Ohio's Amish country. Policewoman Rachel Troyer has always looked after her three elderly Amish aunts, proprietors of a farmhouse inn near Sugarcreek, Ohio. The idyllic town is popular with tourists, who come to sample its famous Amish goods. But one thing is clear to Rachel - Joe Matthews is no tourist. When the bearded stranger lands on her aunts' doorstep, begging shelter for himself and his young son, Rachel is suspicious. Will she be able to uncover Joe's secrets despite her aunts' - and her own - growing affection for him?
ISBN-13:
9781609360023
Publisher:
Ideals Publications
Publication date:
8/1/2010
Series:
Love Finds You Series
Pages: 320
My Review
: This is the first book I've ready by Serena Miller and it won't be my last. I thoroughly enjoyed this story. It's a unique story, in and of itself, because it is written around the Amish community, but the main characters are not Amish. This put a unique perspective on the Amish faith and lifestyle and kept the story interesting.
Rachel Troyer is a fantastic woman. I absolutely love her from the moment I meet her. She is strong and courageous with just enough doubt in herself to make her more human. She is beautiful without realizing it, loyal, kind, and strong in her faith. Joe Matthews - Micah Mattais - is haunted by recent events in his life. He is trying to be strong for his son, and his humility and dedication to do what is best for his son is endearing. Rachel's aunts make for a phenomenal cast of secondary characters that add a great amount of depth to the story.
The message of the story, clearly written at the beginning of the book, is expertly written into the story. We, as Christians, are to treat each other with respect, be helpful, not judgmental, and love one another as Christ loves the church.
"Be not forgetful to entertain strangers: for thereby some have entertained angels unawares."
Hebrews 13:2
Overall, this was a fantastic story and I will certainly keep Serena Miller on my "to-read" author list!
I also can't wait to see the movie that was inspired by this book!
About the Author
: I live only a few miles from a flourishing Amish community and am blessed to count many Old Order Amish as friends.
Love Finds You In Sugarcreek, Ohio
is a natural outgrowth of my on-going fascination with these valiant, flawed people who struggle to live their lives according to their interpretation of the Bible. Once, when I apologized for asking so many questions while researching this book, an Amish father told me that I could ask anything I wanted. "Nothing is forbidden," he said. He told me that he wanted my book to be accurate. I was thrilled when his family read it and gave me their enthusiastic nod of approval.
Our family, however, also lived for many years in Michigan. My father, a sawyer, told me stories he had heard from old timber men who had cut the fabled giant pine in the Saginaw Valley. Visiting museums and reading about the years directly after the Civil War, when Michigan became the lumber capitol of the world, became a hobby. I was delighted when Revell Publishing allowed me to revisit that era by writing
The Measure Of Katie Calloway
.
There are many other books on their way—both Amish and historical. Please know that each one is a labor of love from me to you.
To God be all the glory, forever.
Serena