I'm giving away THREE fantastic books!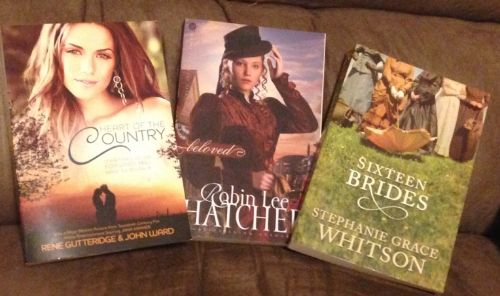 Read my personal reviews:
Sixteen Brides
by
Stephanie Grace Whitson
My rating:
4 of 5 stars
This was a great book. The author had a huge challenge writing about five different characters and she did an amazing job of meeting that challenge. Even though the book focused on five characters, I still feel like I got to know and could relate to their situations.
Each of the characters was running from something in their past. They all wanted a fresh start. For the women, coming out west was a chance to escape and start over. For Matthew, meeting these women was a chance for him to move on from his past.
The message of the book was different for each character, but it all related to the same thing: God knows what your future holds and He is the only one who can bring you ultimate peace in the midst of your storm and suffering.
Overall, I really enjoyed the book and look forward to reading more by this author.
Enter here:
a Rafflecopter giveaway
This is a giveaway HOP so HOP on over to the other blogs, too!