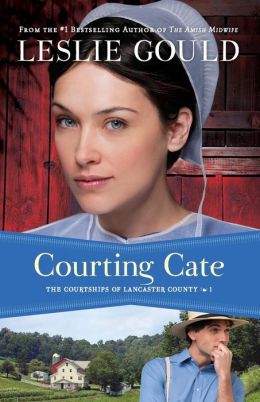 Overview
: When This Couple Gets to Courting, Sparks Will Fly!
In Paradise, Pennsylvania, Cate Miller is known more for her sharp tongue and fiery temper than her striking appearance. Her sweet and flirty sister, Betsy, on the other hand, seems to have attracted most of the bachelors in Lancaster County!
But the sisters' wealthy father has made one hard-and-fast rule: older Cate must marry first, before younger Betsy can even start courting. Unfortunately, untamable Cate has driven away every suitor—until Pete Treger comes to town, that is.
Prodded by the men of the area, Pete turns his attention to winning Cate's hand. But is his interest true or is there a scheme at play?
My Review: Courting Cate was my first experience with Leslie Gould and it won't be my last. This was a unique Amish novel, written in first perspective. To date, I have not come across another Amish novel written the same. The story line was interesting because it was written only from Cate's perspective. The plot also puts a neat spin on the "marriage of convenience" tale that I thoroughly enjoyed.
Cate is also an anomaly to most Amish stories I've read. She's strong willed, independent, and business savvy. She is also determined to remain single because of events that happened in her past, so she pushes people away with her surly attitude and prickly demeanor. Pete is the perfect suitor for Cate, she just doesn't realize it yet. His persistent attitude toward life and his circumstances endeared him to me immediately. While I would have liked a little more romantic interaction between Cate and Pete, their story was sweet and still very enjoyable.
The message of the story well written. I like to think that the illustration of Cate and Pete's romance was similar to that of Christ's relationship with his followers. Pete pursued Cate, even when she pushed him away, even when she didn't trust him, even when she was cold and callous toward him because he loved her and felt she was worth it. Isn't that like God? Doesn't God pursue a relationship with those who call him "Father"? Doesn't He want you even when you push Him away, even when you find it hard to trust Him, even when you turn your back on Him? Learning to trust God with your live, love, and everything is hard. But that's what he wants.
Mistrust turns to trust, Cold and Callous turns to warm and joyful in Christ, and love conquers all in this sweet Amish romance.
About the Author
:
Leslie Gould is the award-winning author of fifteen novels, including the #1 bestseller The Amish Midwife (CBA and ECPA), co-written with Mindy Starns Clark. The novel, the first in The Women of Lancaster County series, was a 2012 Christy Award winner. The Amish Nanny and The Amish Bride, the second and third novels in the series, also hit the bestseller list.
One of Leslie's stand-alone novels, Beyond the Blue, won of the Romantic Times Book Club Magazine's Reviewers' Choice Award for Best Inspirational Novel in 2006.
Leslie received her master of fine arts in creative writing from Portland State University in 2009 and has taught fiction as an adjunct professor at Multnomah University. She also teaches workshops at public and private schools and at writers' conferences.
A varied work history, from curating a historical museum to editing a bridal magazine, preceded her fiction-writing career. She is also an Army Reserve wife who has supported her husband, Peter, through many years of service, including a deployment to Afghanistan as the commander of a field hospital. Leslie and her husband live in Oregon with their four children.