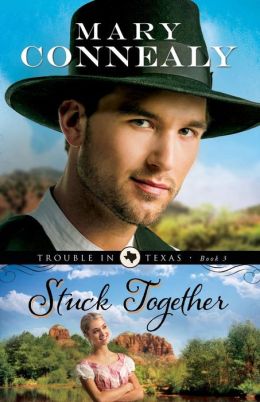 Overview
: When a lawman who values order gets stuck with a feisty crusader who likes to stir things up, there's going to be trouble in Texas!
Now that she's settled in town, Tina Cahill is determined to get Broken Wheel's saloon closed for good. To that end, she pickets outside the place every afternoon. Unfortunately, so far no one has paid any attention.
Vince Yates earned the nickname "Invincible Vince" because of his reputation for letting absolutely nothing stop him. But Vince is about to face his biggest challenge yet: his past has just caught up with him. His father, mother, and the sister he didn't know he had show up in Broken Wheel without warning. His father is still a schemer. His mother is showing signs of dementia. And his surprise sister quickly falls for one of Vince's best friends. Vince suddenly has a lot of people depending on him, and Tina doesn't approve of how he's handling any of them.
With nearly every other man in town married off, Vince finds himself stuck with strong-willed Tina over and over again. Of course, Tina is the prettiest woman he's ever seen, so if he could just get her to give up her crazy causes, he might go ahead and propose. But he's got one more surprise coming his way: Tina's picketing at the saloon has revealed a dark secret that could put everyone Vince loves in danger.
ISBN-13:

9780764209161


Publisher:

Baker Publishing Group


Publication date:

6/3/2014
Series:Trouble in Texas , #3
Pages: 320
My Review: This was a fantastic book! I absolutely love Mary Connealy. Her stories are always entertaining and the dialogue is always hilarious. This story is no exception. There were several laugh out loud moments that I truly appreciated.
I also enjoyed getting to keep up with the other characters from Swept Away and Fired Up. Luke, Ruthie, Glynna, Dare, and Jonas make excellent secondary characters that keep the story flowing swiftly. Vince and Tina are my favorite couple because it took them the longest to realize their love for each other! Their characters had to go through some pretty difficult obstacles, that I also appreciated.
The message of the story is clear: put your trust in the Lord and let go of your fear. He will not lead you where His grace won't keep you. I loved that Vince had to learn to let go of the fear of his past and future because he realized it was defining his life and his relationships. I loved that Tina had to realize that her fear of being unlovable made her who she was and it was great to see her let it go.
Overall, this was satisfying conclusion to the Trouble in Texas series and I look forward to reading more by this incredible author!
*Thank you, Bethany House, for providing me with a free copy of this book via the Bethany House Blogger program in exchange for my honest review.*
About the Author: Mary Connealy is the bestselling author of romantic comedy with cowboys. She is a Carol Award winner and a Rita and Christy and IRCC Award Finalist.

She is the author of The Trouble in Texas series, Swept Away, Fired Up and Stuck Together, The Kincaid Brides Series, Out of Control, In Too Deep and Over the Edge.
The Sophie's Daughters Series, Doctor in Petticoats, a Rita Award finalist, Wrangler in Petticoats and Sharpshooter in Petticoats. These three books are now contained in the single volume Sophie's Daughters Trilogy. The Montana Marriages Series, Montana Rose, The Husband Tree and Wildflower Bride. Montana Rose was a Carol Award Finalist. These three books are now available in the single volume Montana Marriages Trilogy.