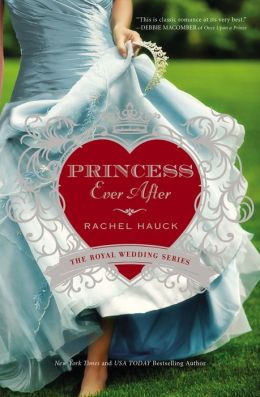 Overview
:
Regina Beswick was born to be a princess.
But she's content to be a small-town girl, running a classic auto restoration shop, unaware a secret destiny awaits her. One that will leap from the pages of her grandmother's hand-painted book of fairytales.
Tanner Burkhardt is the stoic Minister of Culture for the Grand Duchy of Hessenberg. When he is tasked to retrieve the long-lost princess, he must overcome his fear of failure in order to secure his nation's future—and his own.
Yet lurking in the political shadows is a fierce opponent with sinister plans to abolish the throne forever.
Overwhelmed with opposition, Regina must decide if she's destined to restore old cars or an ancient nation. Together—with a little divine intervention—Regina and Tanner discover the truth of her heritage and the healing power of true love.
My Review
: Oh man, I absolutely LOVED this book. The premise of the story mirrors that of
The Princess Diaries
in that it's a story about a girl who is a princess, that didn't know she was a princess. That's where the similarities end. I love when an author takes a well-known plot and makes it their own. Rachel Hauck definitely succeeded in that. The story flowed very well, and I loved reading about the history of Hessenberg. It added an interesting dimension to the story.
The characters were phenomenal. I loved Regina Beswick. Her sweet, Southern innocence endeared her to me instantly. Her strength and surety of faith added to her charm. Tanner Burkhardt was a handsome man, with a strong, rugged, and sweet side. I loved them together and their romance was story-book perfect. The conflict with Seamus defined their characters and helped move the story forward. I also loved, loved, loved the diary entries from Gram (Princess Alice) sprinkled throughout the story.
The message of the story was intricately weaved throughout the story. Both Reggie and Tanner had to overcome fear and self-doubt to embrace all that God had for them. See, when we doubt ourselves or the forgiveness the Lord freely offers, we keep ourselves from living joyfully in the Lord. When we let fear rule our lives, we can never be sure of ourselves in our calling.
Overall, I think this was the perfect edition to the
Royal Weddings Series
and look forward to the next book from Rachel Hauck. (Read my review of
Once Upon a Prince
, the first book in the Royal Wedding Series.)
About the Author
: Rachel Hauck is an award-winning, best selling author of critically acclaimed novels such as "The Wedding Dress," "Love Starts with Elle," and "Once Upon A Prince." She also penned the Songbird Novels with multi-platinum recording artist, Sara Evans. Booklist named their novel, "Softly and Tenderly," one of 2011 Top Ten Inspirationals. She serves on the Executive Board for American Christian Fiction Writers and is a mentor and book therapist at My Book Therapy, and conference speaker. Rachel lives in central Florida with her husband and pets. Find out more about Rachel at
http://www.rachelhauck.com/
.
Facebook
|
Twitter
|
Pinterest
|
Instagram