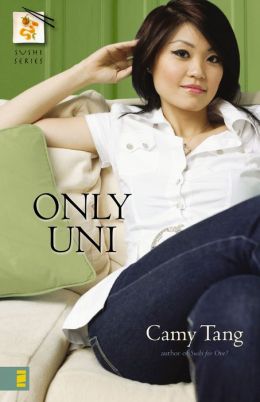 Overview
: Senior biologist Trish Sakai is ready for a change from her wild, flirtatious behavior. So Trish creates three simple rules from First and Second Corinthians and plans to follow them to the letter. No more looking at men as possible dates, especially non-Christians. Second, tell others about Christ. And third, she will persevere in hardship by relying on God. And just to make sure she behaves, she enlists the help of her three cousins, Lex, Venus and Jennifer, the only Christians in their large extended family.
But Trish's dangerously tempting ex-boyfriend, Kazuo the artist, keeps popping up at all the wrong moments, and her grandmother, who has her eye on his family money, keeps trying to push the two of them back together again. Then there's Spencer, the hunky colleague at work who keeps turning Trish's thoughts in the wrong direction.
It just isn't fair! She's trying so hard, but instead of being God's virtuous woman, she's going nuts trying to stand firm against two hunky guys. Trish thought following her three rules would be a cinch, but suddenly those simple rules don't seem so simple after all.
ISBN-13: 9780310297741
Publisher: Zondervan
Publication date: 5/26/2009
Series:
Sushi Series
Format: eBook
Pages: 368
My Thoughts: This is a perfect addition to Camy Tang's Sushi series. Not only do we get to visit our favorite volleyball player, Lex, and her fun, witty cousins, but we get to delve more into the life of Trish. The story flows and weaves around you as you're reading it. I loved the dialogue, Trish's smart mouth and sass. Written in true Camy Tang style, you'll feel plunged into the Japanese/Chinese American culture.

I loved getting to know Trish better. I really enjoyed following her on her journey of discovery of self and pursuit of God. She is sassy, smart, a little whiny, and a lot unsure of herself. Her relationship with Kazuo was so different from the relationship she tried to avoid with Spencer. It was comical to read about her trying to follow rule #1 and failing miserably. Spencer was another great male character. He was smart-allack enough for Trish, but loving, kind, and very true to himself.

The message of the story resonated deep with me. We all have a past, every single one of us. To God, it doesn't matter how "bad" or "good" you were. What matters is that you confess your sins to God and He will forgive you, no matter what! Sometimes accepting that is the hardest thing a Christian will do. Trish wrestles with forgiving herself, as Christ has forgiven her, throughout the entire story. I loved the Camy Tang took something that everyone will struggle with at some point in time, and made it so real.

Overall, this was a fantastic book. Full of fun characters, witty dialogue, and a deep message, readers will devour this book from beginning to end.
About the Author: Camy writes Christian romantic suspense as Camy Tang and Regency romance under her pen name, Camille Elliot. She grew up in Hawaii, where she started reading Regency romances when she was thirteen years old. Now she lives in northern California with her engineer husband and rambunctious dog.

She graduated from Stanford University in psychology with a focus on biology, and for nine years she worked as a biologist researcher. Then God guided her path in a completely different direction and now she's writing full time, using her original psychology degree as she creates the characters in her novels.

In her free time, she's a staff worker for her church youth group and leads one of her church's Sunday worship teams. She also loves to knit Victorian and vintage patterns, spin wool into yarn, and is training to (very slowly) run a marathon.