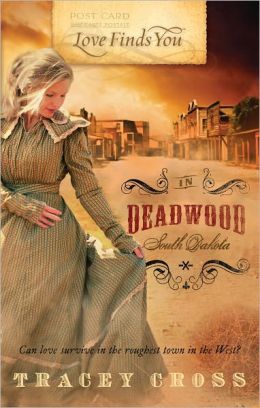 Overview
:
Can love survive in the roughest town in the West?
Jane Albright is newly widowed, with one child to care for and another on the way. When she learns that she is at risk of losing the family home and freighting business to greedy moneylender Franklin Lloyd, she has no choice but to brandish a bullwhip and haul freight all the way to Deadwood, South Dakota. Franklin agrees to give Jane six months to pay the note, and it'll take every ounce of grit she has to secure her children's future. Franklin admires the strong and beautiful woman - but how can he help her when he is her greatest enemy?
ISBN-13: 9781609360573
Publisher: Guideposts
Publication date: 3/21/2011
My Review
: This was a great story... until the end. Don't get me wrong, I loved the plot. It was riveting and engaging. I was rooting for Franklin the entire story. The ending, however, seemed very anti-climatic to me. I won't give away any details or spoilers, The setting in Deadwood was well described. I can imagine walking through the rough and tumble town, passing the drunken miners, and can feel how Jane might have felt walking through the town.
The characters, especially Franklin, seemed fairly simple to figure out. Jane's stubbornness got her into a situation she almost couldn't escape from. I understand her need to repay the debts her deceased husband left her, but at what cost to herself? Franklin's character, in my opinion, didn't grow or change at all. He was a good man from beginning to end, and there are still things about him I don't understand.
The message of the story was about trust. Trust in the Lord, hold out hope even when you don't see the light at the end of the tunnel because God knows what he's doing. Franklin and Jane both had to learn that lesson the hard way.
Overall, this was an enjoyable read and I will look for more books by this author.
About the Author
: Tracey Bateman lives in the beautiful Missouri Ozarks which provide much of her inspiration for the books she writes. She has approximately one million books in print. Tracey loves to hear from readers you can
find her on facebook
or
use the contact form below
to send her an email.