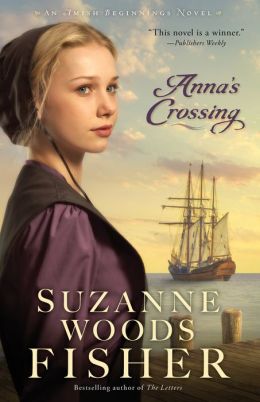 Overview
: When Anna König first meets Bairn, the Scottish ship carpenter of the Charming Nancy, their encounter is anything but pleasant. Anna is on the ship only to ensure the safe arrival of her loved ones to the New World. Hardened by years of living at sea, Bairn resents toting these naïve farmers--dubbed "Peculiars" by deckhands--across the ocean. As delays, storms, illness, and diminishing provisions afflict crew and passengers alike, Bairn finds himself drawn to Anna's serene nature. For her part, Anna can't seem to stay below deck and far away from the aloof ship's carpenter, despite warnings.
When an act of sacrifice leaves Anna in a perilous situation, Bairn discovers he may not have left his faith as firmly in the past as he thought. But has the revelation come too late?
Amish fiction favorite Suzanne Woods Fisher brings her fans back to the beginning of Amish life in America with this fascinating glimpse into the first ocean crossing as seen through the eyes of a devout young woman and an irreverent man. Blending the worlds of Amish and historical fiction, Fisher is sure to delight her longtime fans even as she attracts new ones with her superb and always surprise-filled writing.
ISBN-13: 9780800723194
Publisher: Baker Publishing Group
Publication date: 3/3/2015
Pages: 336
My Review: "Their survival was a testament to her people's story: roots that adapted to whatever soil they were transplanted into, thorns that bespoke of the pain they bore, blossoms each spring that declared God's power to bring new life from death... The roses were a living witness to survival."

Not having ever read a books by Suzanne Woods Fisher before, I really enjoyed this story. The ebb and flow of the plot kept me engaged. The description of life for the German "Peculiars" on the boat fascinated me. I cannot imagine being jammed into the lower hold of a ship for 83 days. The stench alone would have drowned me.

Anna is such a strong, gentle woman. Her quiet, yet fiercely protective nature is what draws the reader to her. The way in which she views life holds me in awe. In fact, the way the Amish view life in general awes me. I know they are human just like us, but their humble spirits teach me a lot. Bairn, at first, seemed like a cold, scary kind of man. As the story progressed, though, we see a different side of him come out, one that I liked very much.

The message of the story was the best part. As you can see from the quotes I've pulled, Suzanne is trying to get across the point of God's sustaining grace. No matter what the situation is, God can bring you through it if you just ask.

"Even in the midst of great gales, they could know peace."

"Broken expectations aren't meant to crush our hopes, but to free us to put our confidence in God alone. They aren't meant to make us give up, but look up."

Overall, I really enjoyed this novel, and look forward to the next one in this series!

*I received a complimentary copy of this book from the publisher through the Revell Reads blogging program in exchange for my honest review.*
About the Author
:
Suzanne Woods Fisher lives with her family in the San Francisco Bay Area. She has one husband, four children, one son-in-law, a two-year old grandson who makes everybody laugh, another little grandbaby on the way (due on Christmas eve!) and raises puppies for Guide Dogs for the Blind.
Suzanne graduated from Westmont College in Santa Barbara, California, and was a free-lancer writer for magazines while her children were growing up. A former contributing editor to Christian Parenting Today, Suzanne's work has appeared in many magazines, including Today's Christian Woman, Worldwide Challenge, and Marriage Partnership.
Her first novel, Copper Star, a World War II love story, was published by a small press (Vintage Inspirations) and received three literary awards. It opened the door to a literary agent, Joyce Hart. The agent knew of Suzanne's connection to the Plain People—her grandfather was raised Plain—and introduced her to an editor at Revell, a division of Baker Books.
Amish Peace: Simple Wisdom for a Complicated World was Suzanne's first book release with Revell. It's a non-fiction book of true stories about the Old Order Amish and was a finalist for the 2010 ECPA Book of the Year Award. There are two spin-offs from Amish Peace: one is Amish Proverbs: Words of Wisdom from the Simple Life and Amish Values for Your Family: What We Can Learn from the Simple Life. Amish Proverbs was also a finalist for the ECPA Book of the Year Award and will be re-released in an expanded edition.
All three books in the 'Lancaster County Secret' series (The Choice, The Waiting, and The Search) hit the bestseller lists for ECPA and CBA. The Waiting was a finalist for a 2011 Christy Award. The Choice was a finalist for the 2011 Carol Award and The Search won the 2012 Long Contemporary Carol Award. A Lancaster County Christmas, a novella set in Stoney Ridge, PA released in September 2011 and stayed on the CBA and ECPA fiction bestseller lists for four months. The Keeper and The Haven, book 1 and 2 in the 'Stoney Ridge Seasons' series, hit the ECPA bestseller lists. Want to hear more? A children's series, 'The Adventures of Lily Lapp,' co-written with Mary Ann Kinsinger of the wildly popular A Joyful Chaos blog, releases with the first book, Life with Lily, on October 1st. Still more? Suzanne is writing a 3-book historical fiction series about the early Quakers of Nantucket, called "Petticoat Row."