For future Top Ten Tuesday topics & info on how to participate, click here!
There are so many books that came out in 2014 that I wanted to read, but didn't get to. I had a hard time narrowing the list down! Here it is: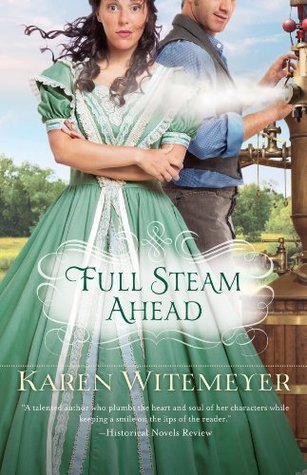 Full Steam Ahead
by Karen Witemeyer - I love all of Karen's books, I just never got a chance to get this book!
A Match Made in Texas
: A Novella Collection - I read so many good reviews and my favorite authors wrote it. I don't know why I didn't get it!
Princess Ever After
by Rachel Hauck - I loved the first book,
Once Upon a Prince
, and I own this book. No excuse for not reading it...
A Sensible Arrangement
by Tracie Peterson - I won this book and was so excited, I bought the entire series. I just ran out of time last year.
Petticoat Detective
by Margaret Brownley - I love Margaret Brownley and I didn't even know this book existed! I also love reading books about women in the 1800s' working non-traditional roles. It always makes for an interesting story!
Bridge to Haven
by Francine Rivers - After reading
Redeeming Love
by Francine Rivers, I've wanted to read all of her books. I just haven't found the time.
Meant to Be Mine
by Becky Wade - I've been meaning to read Becky Wade's Porter Family series for a while now, but I get nervous to read new [to me] authors.
It Had to be You
by Susan May Warren - Same as Becky Wade... I get nervous to read new [to me] authors.
Fair Play
by Deeanne Gist - I have wanted to read
It Happened At The Fair
since it came out, so it stands to reason I would want to read the second book in the series!
A Lady of Willowgrove Hall
by Sarah E. Ladd - I have wanted to read this series since it first came out, and I've purchased the entire series, so I really have no excuse...