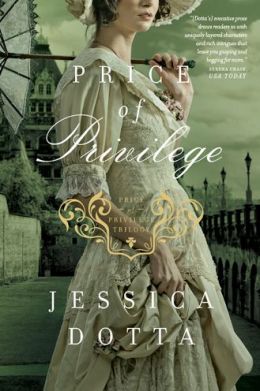 Overview
: Having finally discovered the truth of her birthright, Julia Elliston is determined to outwit Chance Macy at his own game. Holding a secret he'd kill to keep, however, is proving more difficult than she imagined.
Just when Julia thinks she's managed to untangle herself from Macy's clutches, he changes tactics with a risky ploy. As the scandal of the century breaks loose, drawing rooms all over London whisper what so far newspapers have not dared to print: Macy's lost bride is none other than Lord Pierson's daughter—and one of the most controversial cases of marital law ever seen comes before Victorian courts.
Though Julia knows Macy's version of events is another masterful manipulation, public opinion is swaying in his favor. Caught in a web of deceit and lies, armed only with a fledgling faith, Julia must face her fiercest trial yet.
ISBN-13: 9781414375571
Publisher: Tyndale House Publishers
Publication date: 1/1/2015
Series:
Price of Privilege Series
, #3
Pages: 464
My Review: I absolutely enjoyed this final book to the Price of Privilege series. Book two left us with more questions than answers, and I'm happy to say that the author provides a satisfying conclusion. This book is definitely written in the Victorian Gothic style, as are the other books in the series, but with humor and witty conversation sprinkled liberally throughout, the reader does not get bogged down in the negative. The plot itself is fantastic. Scandal, romance, murder, and intrigue kept me turning page after page late into the night!
As in book two, Julia's growth throughout the book was natural and well-written. I didn't expect her to become a religious fanatic, and the author didn't write her as such. She struggled daily against all that was thrown at her, and her faith struggled as well. Her relationships with the people she interacted with on a daily basis grows as she overcomes her personal issues. Edward's character was the true vicar and husband I had been hoping for. He is patient, caring, kind, fierce, loyal, and protective all at once. The comic relief comes in the form of Jameson, Edward's father's personal valet. He is a loyal man with a knack for knowing just what is needed, and when.
The masterful way the message was weaved into the plot gives true credit to the author who wrote it. Overcoming fear and learning to trust comes when we fully and wholly rely on God. Isaac, in my opinion, was the picture of Christ for Julia. He was there for her over and over, time after time, even though she rejected him and hurt him deeply. In the end, just as Christ's sacrifice saved us from eternal damnation, Isaac's sacrifice saved Julia.
Overall, the author provided a satisfying conclusion, ripe with scandal, romance, and a hefty dose of faith. I was choking back tears reading the last couple chapters of this book as the beautiful sacrifice and acceptance of all that had happened took place in Julia's life. I look forward to reading more from this masterful author.

*Spoiler alert* - Here are a few quotes from this book that really touched me:

"God is rich with mercy on the castaways and smoldering brands. They are precious to him, and he's willing to cast aside all that is dirty and offensive and replace it with robes of honor." - Edward to Julia

"'Though he slay me,'" he quoted softly after a minute, "'yet will I trust in him.' If anything happens to me, then fix your eyes on the star, Juls, and never look away, even if you sink and drown. You let God kill one life to resurrect another." - Edward to Julia

"Shame will unmake and warp any soul." - Julia

"Pain, it seems, was God's sharpening tool." - Julia
**Thank you, Tyndale House Publishers for providing me with a complimentary copy of this book in exchange for my honest review.**
About the Author:
Born in the wrong century–except for the fact that she really likes epidurals and washing machines–Jessica Dotta writes British Historicals with the humor like an Austen, yet the drama of a Bronte.
She resides lives in the greater Nashville area—where she imagines her small Southern town into the foggy streets of 19th century London. She oversees her daughter to school, which they pretend is an English boarding school, and then she goes home to write and work on PR. Jessica has tried to cast her dachshund as their butler–but the dog insists it's a Time Lord and their home a Tardis. Miss Marple, her cat, says its no mystery to her as to why the dog won't cooperate. When asked about it, Jessica sighs and says that you can't win them all, and at least her dog has picked something British to emulate.
Learn more about Jessica Dotta
Check out Jessica's blog to see photos from the Launch tea party and more!