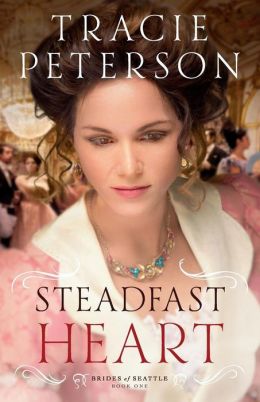 Overview
: Despite her spoiled upbringing, twenty-year-old Lenore Fulcher isn't pretentious. She simply believes a marriage should be built on true love. Her father, however, thinks she's wasted enough time searching for the perfect husband. He wants to marry her off to one of his business partners--who is seventeen years her senior--an idea that is out of the question for Lenore.
Kolbein Booth, a young lawyer from Chicago, arrives in Seattle looking for his headstrong sister, who he believes may have answered an advertisement for mail-order brides. Sick with worry, he storms into the Madison Bridal School, demanding to see his sister, only to learn she isn't there. But Lenore Fulcher is, and something about her captures his attention.
Is this the man Lenore has been searching for? She may not have long to find out...
ISBN-13: 9780764210617
Publisher: Baker Publishing Group
Publication date: 1/6/2015
Series:
Brides of Seattle
, #1
Pages: 352
My Review: Tracie Peterson has a wonderful way with words. Her characters are always well rounded and developed. The Christian aspect is very present and tastefully written. This book was no exception. Steadfast Heart was no exception. It is well written and developed, as I've come to expect from Tracie Peterson.

The characters were well-written and entertaining. Lenore Fulcher is a sweet, caring young lady who is deeply devoted to her family and her friend Abrianna (who had me in tears from her antics!). All she wants is to be truly and deeply loved. Kolbein Booth is a fine gentleman who is captivated from the moment he meets Lenore.

I will say, I immensely enjoyed Abrianna Cunningham's character (almost more than Lenore's)! Her and her aunts provided such comic relief to the story. Wade's character, his exasperation with Abrianna could be felt through the pages, was another great addition. I hope we see more them in the future!!

The message of the story was expertly weaved throughout. Both Lenore and Kolbein deepened their childhood faith and learned to depend on the Lord for their comfort and strength. With Abrianna and Wade's help, they come to fully grasp and understand what the Lord has for them.

Overall, this was a great story and I look forward to reading more about the Brides of Seattle.

*I received a complimentary copy of this book from the publisher through the Bethany House blogging program in exchange for my honest review, which I have given.*

About the Author
:
Tracie Peterson is an award-winning, best-selling author of over 100 books. Having given her heart to Jesus at the young age of six, Tracie has always felt called to some form of ministry, and writing fulfills that mission field.
Tracie received her first book contract in November, 1992 and saw A Place To Belong published in February 1993 with Barbour Publishings' Heartsong Presents. She wrote exclusively with Heartsong for the next two years, receiving their readership's vote for Favorite Author of the Year for three years in a row.
In December, 1995 she signed a contract with Bethany House Publishers. Tracie now writes exclusively for Bethany House Publishers. She has co-written with a variety of authors including Judith Pella, Judith Miller, James Scott Bell, Kimberley Woodhouse and her daughter Jennifer.
Throughout her writing career Tracie has found time to speak at writer's conferences where she has a special heart for new authors. She is often joined by her husband Jim, whose background in history offers new authors insight into research. Besides teaching at conferences, Tracie also at one time managed Barbour Publishing's Heartsong Presents book line - overseeing the production of 52 books a year. Tracie teaches at women's conferences around the country and shares her testimony and insight for Christian living through the eyes of an author passionately in love with her Heavenly Father.
Tracie was awarded the Romantic Times Career Achievement Award for 2007 Inspirational Fiction and the 2011 Lifetime Achievement Award from American Christian Fiction Writers. Her books have won numerous awards for favorite books in a variety of contests, including USA "Best Books 2011" Awards, best Religious Fiction for Embers of Love!
Making her home in Montana, this Kansas native enjoys spending time with family--especially her three grandchildren--Rainy, Fox and Max..
For information on having Tracie speak at your event - contact Noelle Buss at Bethany Publishers/Baker Books.