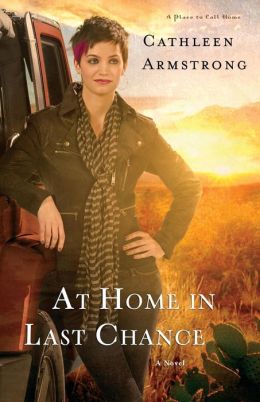 Overview
: Kaitlyn Reed and Steven Braden have always had a similar philosophy of life: when the going gets tough, they get going--out of town and away from the problem. Now they are both back in Last Chance, New Mexico, and trying to start over. Kaitlyn is working to reestablish a relationship with the seven-year-old daughter she left behind six months earlier. Steven is trying to prove to his family that he is not the irresponsible charmer they have always known him to be. As Kaitlyn and Steven find themselves drawn to one another, one big question keeps getting in the way: How will they learn to trust each other when they don't even trust themselves?
With emotional depth and characters who leap off the page and into the reader's psyche, Cathleen Armstrong continues to delight her readers and win new fans. Readers will be thrilled to return once more to the small town they've grown to love.
ISBN-13: 9780800722487
Publisher: Baker Publishing Group
Publication date: 1/6/2015
Pages: 304
My Review
: Welcome back to Last Chance, a place that invites you to sit down and eat at the Dip 'N Dine, gossip with some of the locals, and visit with Elizabeth for some tea. I love the small town setting and the community feel that the author invokes throughout the story. Getting to hear from my old friends Chris and Sarah wasn't bad either. This is the third book in the series, but it does not have to be read in order (I do want to go back and read the first book, though!).
At the end of book two, Chris had just picked up his sister, Kaitlyn from Florida. I really enjoyed getting to know Kaitlyn better in this book, because my opinion of her was not very high. Steven Braden is your typical handsome charmer. I loved the depth the author provided to each character. I really felt a connection with both of them as they struggled to overcome the stigmas of their past. Their relationship was not rushed or over done. It was the background story line for the book.
The message of the story can be summed up in these words from Elizabeth,
"Never underestimate what the Lord can do...He can take the biggest mess you ever saw and turn it into something so beautiful it can take your breath away."
We have all done things we are not proud of; things we struggle to let go of in our past. The hardest thing to do is to let it go, like God does (as far as the East is from the West), and get on with our lives. Each of these characters works to overcome their pasts in the story and receive the beautiful blessing God has for them in their present and future.
Overall, this was a sweet, contemporary romance with a deep message of making our messes beautiful.
**I received a complimentary copy of this book from the publisher through the Revell Reads blogging program in exchange for my honest review.**
About the Author: Cathleen Armstrong is the author of Welcome to Last Chance, winner of the ACFW Genesis Award for Women's Fiction in 2009 and the first volume in the series "A Place to Call Home." She lives in the San Francisco Bay Area with her husband, Ed, and their corgi, but her roots remain deep in New Mexico where she grew up and where much of her family still lives.
Contact Cathleen: