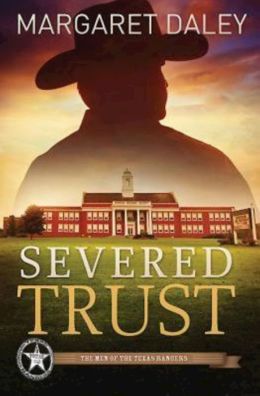 Overview
: The day Sadie Thompson finds her high school student, Lexie, asleep in class and can't wake her is the day she realizes how entrenched a prescription drug ring is in her school. As Sadie is pulled into doing something about the growing problem, she becomes involved with Ethan Stone—a Texas Ranger who suspects the drug ring reaches far beyond the high school.
Helping Lexie recover from the overdose, Sadie feels she is making a difference—until the 16-year-old's best friend dies from the apparent mixing of various prescription drugs. Lexie doesn't think her friend took her own life, but her relationship with her Uncle Ethan is precarious and she doesn't know if either he or Sadie will help her discover the truth.
ISBN-13: 9781426761867
Publisher: Abingdon Press
Publication date: 10/15/2013
Pages: 320
My Review: This is another excellent book by Margaret Daley, and the perfect conclusion to the Men of the Texas Rangers series. As is the case with all her books, this story deals with some pretty serious topics, like prescription drug abuse, trust issues, and peer pressure to name a few. At times, the story had me gripping the edge of my seat. There were a couple plot lines running through the story, and the author did an excellent job of bringing everything together to a satisfactory close.

Margaret took a little bit different approach with this book. Instead of two main characters, this story was written in several different points of view, the main ones being Lexie, Kelly, Sadie, and Ethan. It made the story more interesting and helped me better connect with the characters. Each character had to deal with someone in their lives who abused or experimented with prescription drugs. Reading the story from Kelly and Lexie's perspective opens your eyes to what is going on with our youth today and drives home the importance of keeping an eye on any medications in your house. Sadie and Ethan provide a nice romantic relief in the, sometimes, heavy plot.

The message of forgiveness is clearly stated in Lexie and Sadie's stories. Each character has to deal with a wrong that has been done to them and how the respond to it. By staying angry and not forgiving that person, you are opening yourself up for bitterness and heartache. Holding a grudge doesn't hurt anyone but you. And God. God wants us to forgive people, like He does for us, over and over again.

Overall, this suspenseful story will have you hooked from beginning to end. I highly recommend it.
About the Author
: Margaret Daley is an award winning, multi-published author in the romance genre. One of her romantic suspense books, Hearts on the Line, won the American Christian Fiction Writers' Book of the Year Contest. Recently she has won the Golden Quill Contest, FHL's Inspirational Readers' Choice Contest, Winter Rose Contest, Holt Medallion and the Barclay Gold Contest. She wrote for various secular publishers before the Lord led her to the Christian romance market. She currently writes inspirational romance and romantic suspense books for the Steeple Hill Love Inspired lines, romantic suspense for Abingdon Press and historical romance for Summerside Press. She has sold seventy-five books to date.
Margaret is currently the President for American Christian Fiction Writers (ACFW), an organization of over 2200 members. She was one of the founding members of the first ACFW local chapter, WIN in Oklahoma. She has taught numerous classes for online groups, ACFW and RWA chapters. She enjoys mentoring other authors.
- See more at:
Website
|
Twitter
|
Facebook