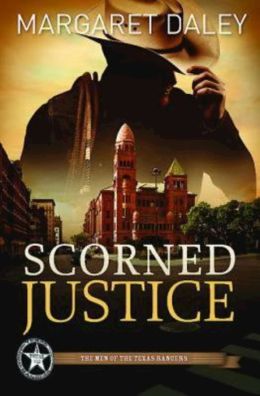 Overview
: Texas Ranger Brody Calhoun is with his parents in west Texas when an unexpected attack injures the brother of Rebecca Morgan, Brody's high school sweetheart. The local sheriff, a good friend, asks for Brody's help. At first, it seems like an open-and-shut case.
As Brody digs deeper, he realizes the attack may be related to an organized crime trial Rebecca will be overseeing. With Rebecca's help, he compiles evidence involving cattle rustling, bribery, and dirty payoffs that shatter the entire community and put Rebecca directly in the line of fire.
Brody expects to protect her. What he never expects is to fall for Rebecca all over again, or for a murder to throw the case wide open. Is Brody's faith strong enough to withstand not only deep-rooted corruption and cattle rustling, but also love?
ISBN-13: 9781426714368
Publisher: Abingdon Press
Publication date: 4/15/2013
Pages: 368
Read an excerpt.
My review of Saving Hope, Book 1 in the Men of the Texas Ranger Series.
My Review: Talk about an action packed book! I cannot believe how well written each and every plot line in this story was written, executed, and wrapped up. The story is excellently written and focuses on revenge. There are some pretty violent crimes depicted in this book, but as usual, Margaret handled them in a tasteful way.
I absolutely enjoyed Rebecca from the beginning of the story. She is a strong woman, and faces adversity with very real emotions and feelings. Her faith is part of her life and she makes it known, as well as her stance and strong sense of justice. Brody is the type of swoon-worthy Texas Ranger I've come to recognize in Margaret's books. I loved him and his feeling of overwhelming protectiveness toward Rebecca and her family. His sense of loyalty and justice was another great asset. Their romance was well-developed and their feelings were tangled and untangled very well.
The overall theme of the story was revenge. The villian in this story felt that they had been wronged. Instead of practicing forgiveness and letting God handle the punishment, they let their anger turn into bitterness and ultimately focus on revenge. Rebecca states the message the author is portraying quite well when she says, "I can't always control what happens to me, but I can control how I react." As a Christian, we are called to forgive, as we have been forgiven. That isn't always easy. If we don't forgive, our anger can turn into bitterness and a sense of revenge can overtake us and cause more harm.
Overall, this was a fast-paced, edge of your seat, keep you guessing until the very end suspenseful romance. I highly recommend it!
About the Author
: Margaret Daley is an award winning, multi-published author in the romance genre. One of her romantic suspense books, Hearts on the Line, won the American Christian Fiction Writers' Book of the Year Contest. Recently she has won the Golden Quill Contest, FHL's Inspirational Readers' Choice Contest, Winter Rose Contest, Holt Medallion and the Barclay Gold Contest. She wrote for various secular publishers before the Lord led her to the Christian romance market. She currently writes inspirational romance and romantic suspense books for the Steeple Hill Love Inspired lines, romantic suspense for Abingdon Press and historical romance for Summerside Press. She has sold seventy-five books to date.
Margaret is currently the President for American Christian Fiction Writers (ACFW), an organization of over 2200 members. She was one of the founding members of the first ACFW local chapter, WIN in Oklahoma. She has taught numerous classes for online groups, ACFW and RWA chapters. She enjoys mentoring other authors.
- See more at:
Website
|
Twitter
|
Facebook