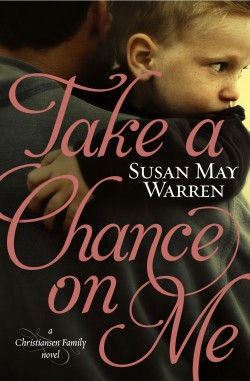 Overview
: Darek Christiansen is almost a dream bachelor—oldest son in the large Christiansen clan, heir to their historic Evergreen Lake Resort, and doting father. But he's also wounded and angry since the tragic death of his wife, Felicity. No woman in Deep Haven dares come near.
New assistant county attorney Ivy Madison simply doesn't know any better when she bids on Darek at the charity auction. Nor does she know that when she crafted a plea bargain three years ago to keep Jensen Atwood out of jail and in Deep Haven fulfilling community service, she was releasing the man responsible for Felicity's death. All Ivy knows is that the Christiansens feel like the family she's always longed for. And once she gets past Darek's tough exterior, she finds a man she could spend the rest of her life with. Which scares her almost as much as Darek learning of her involvement in his wife's case.
Caught between new love and old grudges, Darek must decide if he can set aside the past for a future with Ivy—a future more and more at risk as an approaching wildfire threatens to wipe out the Christiansen resort and Deep Haven itself.
ISBN 10: 1414378416
ISBN 13: 978-1414378411
A Christiansen Family Novel – Book 1
Tyndale House Publishers
My Review: I am so glad I took a chance on this novel. I absolutely loved it! The story gripped my heart from beginning to end. Following the lives of 3 best friends and a new comer was interesting, exciting, and at times heartbreaking. The events that led each character to where they are at this point in time were each traumatizing in it's own way, but watching them grow, triumph, and overcome their pasts gave me immense satisfaction in the story.

I loved Ivy, Claire, Jensen, and Darek. Their characters were uniquely complex, though they struggled with much of the same emotions. The author did an excellent job of layering their pasts and presents to add emotional clarity and depth to the story. At times, I felt like Ivy and Darek's relationship was rushed, but it made sense in a way (I know, that's confusing, but that's how I felt). Ivy and Darek have to decide whether or not to take a chance on each other, despite their emotional scars and baggage. Tiger's antics lent a light air to an otherwise deep and emotional plot. I just wanted to squeeze that little boy!

Each character has to overcome bitterness, anger, and emotional scars that have tainted their lives.Everyone feels like someone else has wronged them at some point in our lives. It's what we do with those feelings that can shape our futures.As the author states in her note to the reader, "we live in a blame world." There is no mercy, grace, or forgiveness. We cannot redeem ourselves. Only God can. That's what grace is. When we accept his grace, we also accept his mercy and forgiveness. Then we can learn to be more like Christ in our lives, forgiving others, and extending mercy and grace to those who we feel have wronged us. Ivy, Claire, Jensen, and Darek each have to learn to accept those things in different ways for their lives to be full of the joy and love the Lord has for them.

Overall, I loved this story. I can't say enough good things about it and I can't wait to get my hands on the rest of the series.
About the Author
: Susan May Warren is the RITA award-winning novelist of over thirty novels. A five-time Christy award finalist, a two-time RITA Finalist, she's also a multi-winner of the Inspirational Readers Choice award, and the ACFW Carol Award.
A seasoned women's events speaker, she's a popular writing teacher at conferences around the nation and the author of the beginning writer's workbook: From the Inside-Out: discover, create and publish the novel in you!.
She is also the founder of
www.MyBookTherapy.com
, a story-crafting service that helps authors discover their voice. You can find her online at
www.susanmaywarren.com
.