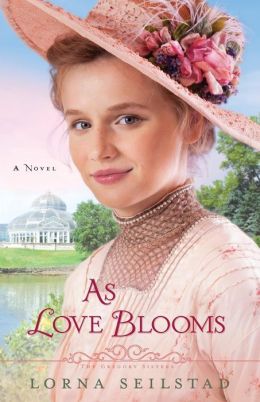 Overview
: Tessa Gregory is nothing if not tenacious. Denied a position as a horticulturalist at prestigious Como Park in Saint Paul, she is not above a little benevolent deception in order to get the park superintendent to change his mind and hire her. She plans to infiltrate the world of wealthy and influential people in hopes of drumming up financial support for a world-class conservatory. But before she can put those plans into action, she meets Reese King, a handsome gardener at Como Park--and a major distraction. Still, Reese might be the key to achieving her dream. But is his goal to help her . . . or to capture her heart?
Against a lush backdrop of early twentieth century Saint Paul, Minnesota, Lorna Seilstad weaves a sweet and sassy story that is sure to please. Tessa's young romance opens like a rose, stealing readers' hearts and filling their senses with the intoxicating fragrance of dreams come true.
ISBN-13: 9780800721831
Publisher: Baker Publishing Group
Publication date: 5/19/2015
Pages: 320
My Review
: I'm a big fan of Lorna Seilstad's
Lake Manawa Summer series
, so I jumped at the chance to review this book for Revell Reads. I was not disappointed. Though this is the third book in the series (about the third Gregory sister Tessa), it reads like a stand alone book. I would, however, like to read the first two books in the series so I can get the background on Hannah and Charlotte!
This story was so much fun. Tessa's personality shown through the entire book and I lapped it up. She is bubbly, effervescent, and exciting. Life is her "greatest adventure" and it shows through each page. Her "reach for the stars" personality is the perfect match for solid, serious, and feet firmly planted on the ground Reese. His protective and humble personality was refreshing. I really liked that he didn't try to change Tessa, he just arranged his life around her's.
Tessa and Reese both have to learn to put their faith in a power greater than their own.
"A small amount of genuine faith is enough to produce great hope."
Even faith the size of a mustard seed is enough for Jesus to do the work. Reese has to learn to let go of trying to please his earthly father and work to please his heavenly Father. Tessa has to learn that man will let you down at some point, no matter how good the person is. The only one who won't let you down is the Lord.
Overall, I absolutely loved this book and look forward to reading more from this amazing author.
*I received a copy of this book from the publisher through the Revell Reads blogging program in exchange for my honest review.*
About the Author
: A history buff, antique collector, and former high school English teacher, fan favorite Lorna Seilstad is the author ofWhen Love Calls, While Love Stirs, and the Lake Manawa Summers series. A member of American Christian Fiction Writers, Lorna lives in Iowa with her husband. Learn more at
www.lornaseilstad.com
.