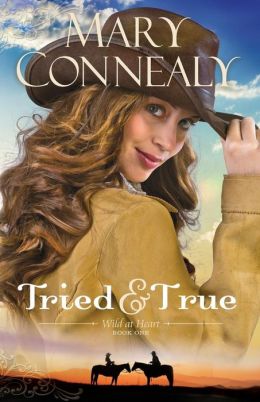 Overview
:
Saddle up for a wildly fun ride with the Wilde sisters
!
Kylie Wilde is the youngest sister--and the most civilized. Her older sisters might be happy dressing in trousers and posing as men, but Kylie has grown her hair long and wears skirts every chance she gets. It's a risk--they are homesteading using the special exemptions they earned serving in the Civil War as "boys"--but Kylie plans to make the most of the years before she can sell her property and return to the luxuries of life back East.
Local land agent Aaron Masterson is fascinated with Kylie from the moment her long hair falls from her cap. But now that he knows her secret, can he in good conscience defraud the U.S. government? And when someone tries to force Kylie off her land, does he have any hope of convincing her that marrying him and settling on the frontier is the better option for her future?
My Review
: Mary Connealy is one of my all time favorite authors. I love her characters, stories, and spunk! This story was no exception. Written in Mary's signature style, this story is witty, light-hearted and a ton of fun. The dialogue, especially between Kylie and Aaron, is laugh-out-loud funny. I especially loved the danger and twists the story presented.
Kylie is an unusual character. Many of the characters Mary Connealy likes to write about are unconventional women in the west. However, Kylie Wilde is unique in that she masqueraded as a man, but longs to dress and be like a woman. I loved that about her, though at times, it could be annoying because it seemed she didn't have a logical thought in her head. Aaron is your typical "hero" male figure. He's strong, handsome, and falls madly in love with Kylie right away. Their story was so much fun to read.
The message of the story is deep and woven expertly throughout. I wouldn't have expected such a strong message in such a light-hearted story. Each character, Kylie, Aaron, and Nev, must come to learn this lesson. Aaron says it best here, "So long as you're alive, ... and no matter how bad life is, there's hope. Things can get better. You can still find happiness in this life and prepare for peace in the next." How can we do that, you ask? Trust in God to take care of you and lean on Him in the hard times. Each of these characters faced the brutality of the Civil War, and each of these characters suffered mightely for it. With God's help, though, they each have hope!
Overall, this story brought me on a wild ride with the Wilde family, and I look forward to getting to know the rest of this fantastic family!
*I received a complimentary copy of this book from the publisher through the Bethany House blogging program in exchange for my honest review, which I have given.*