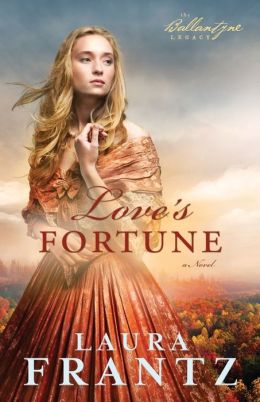 Overview
:
With two very different horizons stretched out before her, one young woman stands on the cusp of an unknown future.

Sheltered since birth at her Kentucky home, Rowena "Wren" Ballantyne has heard only whispered rumors of her grandfather Silas's vast fortune and grand manor in Pennsylvania. When her father receives a rare letter summoning him to New Hope, Wren makes the journey with him and quickly finds herself in a whole new world--family members she's never met, dances she's never learned, and a new side to the father she thought she knew.
As she struggles to fit in during their extended stay, she finds a friend in James Sackett, the most valued steamship pilot of the Ballantynes' shipping line. Even with his help, Wren feels she may never be comfortable in high society. Will she go her own way . . . to her peril?
With her signature attention to historical detail and emotional depth, Laura Frantz brings 1850s Pennsylvania alive with a tender story of loss, love, and loyalty.

ISBN-13: 9780800720438
Publisher: Baker Publishing Group
Publication date: 9/16/2014
Series: The Ballantyne Legacy , #3
Pages: 400
My Review: Laura Frantz is a great historical writer. Not only does she bring a story to life with her outstanding descriptions, she pulls the reader in with her characters and story. I felt as if I was transplanted back to a time in our history with her rich descriptions of the characters' dresses, parties, and atmosphere.
The characters were well written. I really enjoyed getting to know each character, even those of Izannah and Malachi (they added extra depth to the story). Wren Ballantyne is a unique character, though her situation is not unique. She is thrust into a world she is not used to, and she struggles to find her place in it. Her faith continued to be strong in a world where God and His plans didn't fit in. James Sackett is another fascinating character. Generally, in these stories, Wren's character would fall in love with a servant or someone closer to what she was used to. James Sackett is different in that he can play the part of the well-bred gentleman, though his background is less than gentlemanly. I was a little disappointed in the romance aspect of the story. The author chose to focus more on the feelings of each character in their situation, rather than the feelings growing between them. I felt their romance blossomed, then kind of hung in the background, until the end when the story was winding down.
The faith aspect of the story, on Wren's part, was strong. We know Wren is a believer who prays and seeks the Lord's guidance in a world where that's not the norm. Kind of lines up to what we currently live in, right? James, on the other hand, has little faith in God or time to learn more about him. I was disappointed in his coming to a greater faith in the story. It was hinted at, but never really expounded on.
All in all, the story is aptly described as a "tender story of loss, love, and loyalty." I really enjoyed Laura Frantz' writing style, and will definitely be picking up another one of her books in the future!
*I received a complimentary copy of this book via Revell Reads in exchange for my honest review.*
About the Author
:I was born and raised in Kentucky, living first in Ashland, Mammoth Cave, Bowling Green, and then Lexington. But my heart has always been in Berea, Madison County, the place my family has resided since the 18th-century. I came to know Christ there at the age of 12, was baptized, and spent my childhood roaming through the woods and swimming in the rivers of my books.
My earliest memories are of the public library, standing in front of shelves filled with those little biographies of famous historical figures like Daniel Boone and George Washington and Sacajawea. I began scribbling stories at age 7 and thankfully never stopped. My passion then and now is history and all the wonders of past centuries.
I attended college at Denison University in Ohio and also in England, living in a manor/castle and studying the American Revolution from the British perspective. Shakespeare and 18th-century literature form the backbone of my English degree. Strangely enough, I only took one creative writing class.
It was never a desire of mine to be published. I simply love to write for the sheer joy of writing – and that was enough. But as Proverbs 16:9 says, "The heart of a man plans his way, but the Lord establishes his steps."
I hope my books bless you.