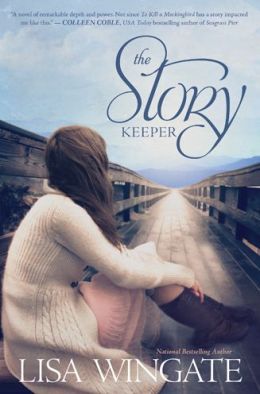 Overview
: When successful New York editor Jen Gibbs discovers a decaying slush-pile manuscript on her desk, she has no idea that the story of Sarra, a young mixed-race woman trapped in Appalachia at the turn of the twentieth century, will both take her on a journey and change her forever. Happy with her life in the city, and at the top of her career with a new job at Vida House Publishing, Jen has left her Appalachian past and twisted family ties far behind. But the search for the rest of the manuscript, and Jen's suspicions about the identity of its unnamed author, will draw her into a mystery that leads back to the heart of the Blue Ridge Mountains . . . and quite possibly through the doors she thought she had closed forever. Tyndale House Publishers
Product Details
ISBN-13: 9781414386898
Publisher: Tyndale House Publishers
Publication date: 9/1/2014
Pages: 438
My Review: This is, by far, the best Lisa Wingate book I've ever read. I was totally captivated from beginning to end. The Story Keeper is a story within a story. The dialogue, the plot, and the characters drew me in and wouldn't let me go.

Jennia Beth's struggle to accept her past and move on is something I could easily relate to. I think, on some level, everyone can relate to it. Throughout the book, we see Jen's character face what seemed insurmountable, only to have her grow in her faith when things finally fell into place. I wish there was more of Evan in the book. Through Jen's eyes, we could see the struggle Evan faced, as well, but I wanted to know more of the mysterious man!

The most compelling part of the story, aside from Rand and Sarra's life, was the message. "What can't be understood and neatly sewn up must simply be let go, no in the way of giving up, but in the way of understanding who is really in control of it." Such a deep and profound truth is often hard for people to accept. We like things neatly bundled and packaged and often become agitated and fragile when something doesn't fit the mold we try to put it in. Learning to "let go, and let God," as I've often heard growing up, is one of the best, most freeing, lessons I've learned!

Overall, I absolutely loved this story within a story. It was magical, mysterious, and powerful. I highly recommend it!

*I received a complimentary copy of this book from the publisher through the Tyndale Blog Network in exchange for my honest review.*
About the Author
: Selected among BOOKLIST'S Top 10 of 2012 and Top 10 of 2013, Lisa Wingate skillfully weaves lyrical writing and unforgettable Southern settings with elements of women's fiction, history, and mystery to create stories that Publisher's Weekly calls "Masterful" and ForeWord Magazine refers to as "Filled with lyrical prose, hope, and healing." Lisa is a journalist, an inspirational speaker, a reviewer for the New York Journal of Books, and the author of over over twenty novels and countless magazine pieces.
Her books have held positions on many bestseller lists, both in the U.S. and internationally. She is a seven-time ACFW Carol award nominee, a Christy Award nominee, an Oklahoma Book Award finalist, a Christianity Today Book Award nominee, an Inspy Award nominee, a two-time Carol Award winner, a LORIES Best Fiction Award winner, and a Utah Library Award winner. Recently, the group Americans for More Civility, a kindness watchdog organization, selected Lisa along with Bill Ford, Camille Cosby, and six others, as recipients of the National Civies Award, which celebrates public figures who work to promote greater kindness and civility in American life. Visit Lisa at her website: www.LisaWingate.com