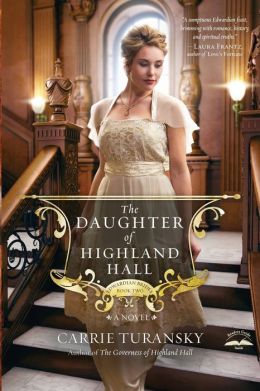 Overview
:
What if the title, the estate, the life of security and splendor… what if it isn't enough?
Strong-willed and beautiful, debutante Katherine Ramsey feels ready to take the London social season by storm, and she must. Her family estate, Highland Hall, has been passed to older male cousin Sir William Ramsey, and her only means of securing her future is to make a strong debut and find a proper husband. With her all-knowing and meddling aunt as a guide, Katherine is certain to attract suitors at the lavish gatherings, sparkling with Great Britain's elite.

When a shocking family scandal sidelines Katherine, forcing her out of the social spotlight, she keeps a low profile, volunteering with the poor in London's East End. Here Katherine feels free from her predictable future, and even more so as a friendship with medical student Jonathan Foster deepens and her faith in God grows. But when Katherine is courted anew by a man of wealth and position, dreams of the life she always thought she wanted surface again. Torn between tradition and the stirrings in her heart for a different path, she must decide whom she can trust and love—and if she will choose a life serving others over one where she is served.
ISBN-13:
9781601424983
Publisher:
The Doubleday Religious Publishing Group
Publication date:
10/7/2014
Series:
Edwardian Brides Series
Pages:
336
My Review: "God is our refuge and strength, a very present help in trouble. Therefore will we not fear, though the earth be removed, and though the mountains be carried into the midst of the sea; though the waters thereof roar and be troubled, though the mountains shake with the swelling thereof... Be still, and know that I am God..." Psalm 46
This was such a fantastic story. I absolutely loved the characters, plot, and the message that Carrie expertly weaved. The story was interesting and kept me engaged. The characters were well rounded and excellently written. It was definitely nice to catch up with William and Julia.
The characters were fantastically written and developed. I really like Kate as a character. At her age, the confusion and feelings that she felt were natural and appropriate. She is torn between what is tradition and what the Lord wants for her life. Accepting a path that is different from what you always envisioned your life would take is hard, and Carrie does a fantastic job of portraying that. Jon is a strong male lead character. I love his attitude and faith. He is a great example for Kate to follow.
The message, as I believe the verse above portrays, is to lean on God. Trust Him for all things in our lives, and He will bless us according to His will. When we place our trust and our lives in God's hands, all things work out for good, according to His purpose. Taking that leap of faith is a scary and somewhat intimidating, but the author is letting us know that it is worth it all in the end.
Overall, I recommend this story for anyone who loves a good, clean period romance with a strong message of faith, love, and trusting your heart.

*I received a complimentary copy of this book from the publisher through the Blogging for Books blogging program in exchange for my honest review, which I have given.*
About the Author: CARRIE TURANSKY is an award-winning author of more than a dozen novels and novellas. She has been the winner of the ACFW Carol Award, the Crystal Globe Award, and the International Digital Award, and a finalist for the Inspirational Readers Choice Award and the ACFW Carol Awards and Genesis Contest. She has written contemporary and historical romances, women's fiction, short stories, articles, and devotionals. She lives in New Jersey with her husband, Scott, and they have five adult children and four grandchildren.