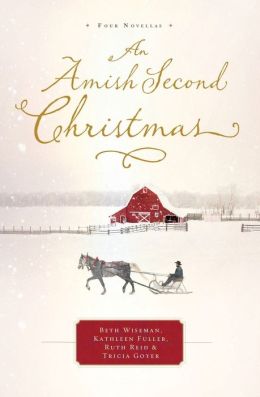 Overview
:
Second Christmas is a time of family, fun, and tradition in Amish communities. Come celebrate this special time with four heartwarming Amish romances.
When Christmas Comes Again, by Beth Wiseman:
Katherine knows the first Christmas without Elias will be hard for her and the children. But when a mysterious Englischer appears with photographs of her late husband, Katherine begins to wonder what other blessings Christmas could have in store.
A Gift for Anne Marie, by Kathleen Fuller:
Anne Marie and Nathaniel have been best friends since they were kids. Now things are evolving . . . in ways everyone else predicted long ago. But when her mother suddenly decides to remarry in another state, Anne Marie's new chapter with Nathaniel looks doomed to end before it begins.
Her Christmas Pen Pal, by Ruth Reid:
Joy was expecting a wedding proposal from Henry — what she got instead was news of another woman. But when her heartfelt letter to a cousin ends up in the hands of a young cabinetmaker, an unexpected correspondence between two strangers gets interesting fast.
The Christmas Aprons, by Tricia Goyer:
Vanilla crumb pie has been Esther's mem's calling card for decades. But when Esther finally gets her hands on the secret recipe, she discovers that vanilla crumb pie is more than just dessert . . . it's bachelor bait.
ISBN-13:
9781401689810
Publisher: Nelson, Thomas, Inc.
Publication date: 10/14/2014
Pages: 423
My Review: When Christmas Comes Again by Beth Wiseman - Understanding that the author's intentions for this novella were to show the blessings of family, this story is wonderful. It also does a wonderful job of showing that everyone grieves differently. Each member in Katherine's family is struggling with the loss of their loved one, but God's grace and love flow over them in the form of the "mysterious Englischer" that shows up in their lives.

Her Christmas Pen Pal by Ruth Reid - What a beautiful story! I absolutely LOVED the letters between Joy and her pen pal. That element added a special touch to the overall story. It also helped develop the relationship between Joy and Noah, before either character realized it.The message of the story, in my opinion, was about learning to trust the Lord with our future. Both characters had to learn to trust the Lord to overcome their fears.

A Gift for Anne Marie by Kathleen Fuller - I love this kind of story (I won't say what kind it is because it might be considered a spoiler!). The relationship between Nathaniel and Anne Marie evolves and changes in ways neither one of them understand, so it was fun to watch them trying to figure it out. The message of the story is learning to trust in God's plan for your life, even when you don't think things are going the way they should. God knows what He's doing, and learning to "let go" and "let God" is sometimes hard.

The Christmas Aprons by Tricia Goyer - This was a fantastic story. The character development was well thought out and presented. The story line was sweet and swift moving. My favorite part, though, was the message. Esther has to learn to overcome her self-doubt, her fear of what others might think, in order to embrace the plans that God has for her. How many of us are doing the same thing??

Overall, this collection of Christmas novellas was sweet and the messages were well written and thought out. I thoroughly enjoyed them.

*I received a complimentary copy of this book from the publisher through the BookLook blogging program in exchange for my honest review.*
About the Author:
Award-winning, bestselling author Beth Wiseman is best known for her Amish novels, but she has also written several successful contemporary novels, set primarily in her beloved Texas, inlcuding Need You Now and The House that Love Built. Both have received glowing reviews. Beth's The Promise is inspired by a true story. Website: www.bethwiseman.com
Kathleen Fuller is the author of several bestselling novels, including A Man of His Word and Treasuring Emma, as well as a middle-grade Amish series, The Mysteries of Middlefield. Website: www.kathleenfuller.com
Ruth Reid is a CBA and ECPA best-selling author of the Heaven on Earth series. She's a full-time pharmacist who resides in Florida with her husband and three children.
USA Today best-selling author Tricia Goyer is the author of 35 books, including the three-book Seven Brides for Seven Bachelors series. She has written over 500 articles for national publications and blogs for high traffic sites like TheBetterMom.com and MomLifeToday.com. Tricia and her husband John live in Little Rock, Arkansas where John works for FamilyLife. They have six children.