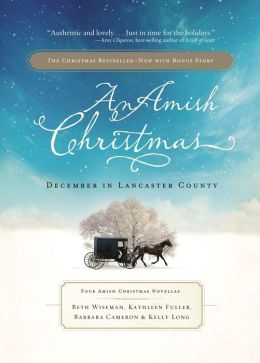 Overview
:
Celebrate Christmas with four Amish romances.
"A Choice to Forgive" by Beth Wiseman
After Daniel disappeared that long-ago Christmas Eve, Lydia built a life with his brother. But now she's a widow and Daniel has reappeared, asking for forgiveness. Can she go back to her normal life with her long-lost love as her neighbor?
"A Miracle for Miriam" by Kathleen Fuller
Seth is no longer the arrogant young man who shattered Miriam's confidence and broke her heart. Will he be able to show "plain" Miriam that she is truly beautiful to him?
"One Child" by Barbara Cameron
The birth of one child forever changed the world two thousand years ago. On a snowy Christmas night in Lancaster County, another child changes the world for two very different couples.
"Christmas Cradles"by Kelly Long
When Anna Stolis takes over for her aunt, the local midwife, Christmas night heats up with multiple deliveries, three strangers' quilts, and unexpected help from the handsome and brooding Asa Lapp.

ISBN-13:
9781595548566
Publisher: Nelson, Thomas, Inc.
Publication date: 9/13/2011
Pages: 528
Buy It:
B&N
|
Amazon
|
CBD
*For a limited time ONLY, Christianbook.com is selling this collection for $4.99! (Check price before purchasing)*
My Review
:
"A Miracle for Miriam" by Kathleen Fuller
- This was a sweet story with a strong message. Forgiveness and self-worth are the main themes throughout this story and the author does an excellent job of getting them across. The characters are well-written and you can really see the changes in them in such a short story. Overall, I enjoyed this novella and will definitely read more by Kathleen!
"A Choice to Forgive" by Beth Wiseman
- This book is all about forgiveness. Beth Wiseman does a fantastic job of weaving forgiveness throughout the entire story. Daniel and Lydia are great characters with a heavy past to overcome. I enjoyed the stories and the obstacles the author put in their places for them to overcome. It kept the story moving in a swift pace. Overall, it was well written story that I thoroughly enjoyed.
"One Child" by Barbara Cameron
- What a powerful novella that shows how God really does work in mysterious ways. David and Sarah are grieving. On Christmas night, a stranger knocks on their door seeking shelter for him and his pregnant wife. Both families, in their own ways, help comfort and support each other. This was an excellent book and I will definitely be reading more by Barbara Cameron!
"Christmas Cradles" by Kelly Long
- Do you believe in love at first sight? This is a heartwarming novella about second chances, overcoming shame, and accepting the gift the Lord has given. I enjoyed the sparks and attraction between Asa and Anna. The description of the storm made me want to cozy up with a blanket by the fire. I think this was my favorite story of the four.
Overall, I really enjoyed this collection of novellas and I look forward to reading
An Amish Second Christmas
soon!
About the Authors
: Award-winning, best-selling author
Beth Wiseman
is best known for her Amish novels, but her most recent novels,
Need You Now
and
The House that Love Built
, are contemporariesset in small Texas towns.Both have received glowing reviews.Beth's highly-anticipated novel,
The Promise,
is inspired by a true story. Website: www.bethwiseman.com Twitter: @bethwiseman Facebook: Fans-of-Beth-Wiseman
Kathleen Fuller is the author of several bestselling novels, including A Man of His Word and Treasuring Emma, as well as a middle-grade Amish series, The Mysteries of Middlefield. Website: www.kathleenfuller.com Twitter: @TheKatJam Facebook: Author Kathleen Fuller
Kelly Long is the author of the Patch of Heaven series and the historical Amish Arms of Love. She was born and raised in the mountains of Northern Pennsylvania. She's been married for twenty-six years and enjoys life with her husband, children, and Bichon.
Barbara Cameron is the author of fifteen novels and three nationally televised movies (HBO), as well as a recipient of the first Romance Writers of America Golden Heart. Her Amish stories are inspired by her visits to Lancaster Co., PA.