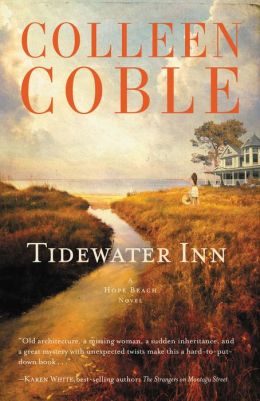 ISBN-13:

9781595547811


Publisher:

Nelson, Thomas, Inc.


Publication date:

7/17/2012


Series:

Hope Beach Series , #1


Pages:

320
Overview
:
Welcome to Hope Beach. A place of intoxicating beauty . . . where trouble hits with the force of a hurricane.
Inheriting a beautiful old hotel on the Outer Banks could be a dream come true for Libby. The inn cries out for her restorer's talent and love of history. She's delighted to learn of the family she never knew she had. And the handsome Coast Guard lieutenant she's met there on the island could definitely be the man of her dreams.
But Libby soon realizes that the only way she can afford the upkeep on the inn is to sell it to developers who are stalking the island. The father who willed her the inn has died before she could meet him, and her new-found brother and sister are convinced she's there to steal their birthright. Worst of all, her best friend and business partner has been kidnapped before her eyes, and Libby's under suspicion for the crime.
Libby's dream come true is becoming a nightmare. Her only option is to find her friend and prove her innocence, or lose everything on the shores of Hope Island.
(The e-book edition is $3.99 right now on all sites!)
My Review: I love all of Colleen Coble's novels and this story is no exception! Colleen has you gripping the edge of your seat from the very first page! While the story is a little unrealistic (they don't call it "fiction" for nothing!), it is still exceptionally written. Most of the time, I can guess how the mystery is going to play out. Colleen does an excellent job of keeping you guessing until the very end. My suspicions were completely wrong! I love that type of story!
Libby, as a rather new Christian, is faced with obstacle after obstacle. It was great to go through her spiritual growth journey with her. She is also a strong, yet tender and loving female lead character. She would be someone I looked up to. Alec is a good, godly man. Yet, Colleen Coble gives him enough human characteristics to make him normal. He struggles just like any other man. With a cast of secondary characters like Vanessa, Brent, and Aunt Pearl, the story is never boring or drama-less. It was also nice to catch up with Bree and Kade from the Rock Harbor series!
The overall theme of the story - greed and generosity (as stated by Colleen herself) - is repeated through the decisions and situations the characters deal with. The story repeatedly makes them ask the time old question: "What Would Jesus Do?" Facing trials and tribulations is part of every life, but especially Christians. As Alec is quick to point out, "Being a Christian doesn't mean trouble never comes our way... It just means God is here, and he gives us the grace to get through the heartache." When a particular decision has to be made that is really hard, the reward can be equally great.
Overall, I thoroughly enjoyed this story, as I do all of Colleen Coble's works. I highly recommend this story as well as any of her other works!
About the Author:
Lonestar Angel, the 4th novel in Colleen Coble's popular Lonestar series won the 2012 Carol Award in Romantic Suspense.
With more than 300 products nominated, industry retailers chose the titles to receive the Retailer's Choice award. The Lightkeeper's Ball by Colleen Coble, received an award in fiction: historical romance. When hearing the news, Daisy Hutton, vice president and publisher for Thomas Nelson's fiction division had this to say: "The Thomas Nelson fiction team is delighted that Colleen Coble's work has been recognized by retailers through this award. Colleen is more than a Thomas Nelson author; she is a part of our family, having celebrated her 10th anniversary with us this summer. We greatly appreciate the support that retailers have given to Colleen throughout her career, and we join her in celebrating this achievement."