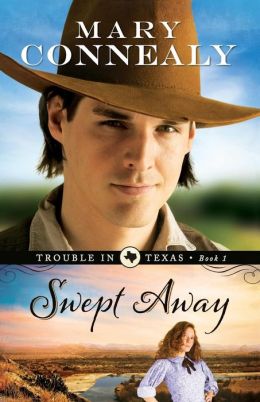 Overview
: When a cowboy focused on revenge encounters a woman determined to distract him, there's going to be trouble in Texas!
Swept away when her wagon train attempts a difficult river crossing, Ruthy MacNeil isn't terribly upset at being separated from the family who raised her. All they've ever done is work her to the bone. Alive but disoriented, she's rescued by Luke Stone...so unfortunately, there are more chances to die in her immediate future.
Luke is on a mission to reclaim the ranch stolen from his family. But the men currently on the property won't let it go without a fight. Luke plans to meet up with friends who will help him take back the land, and since he can't just leave Ruthy in the middle of nowhere, she's going to have to go with him.
But the more time Luke spends around the hardworking young woman, the more he finds himself thinking of things besides revenge. Will Ruthy convince him to give up his destructive path and be swept away by love?
ISBN-13:

9780764209147
Publisher: Baker Publishing Group
Publication date: 3/1/2013
Series:Trouble in Texas Series , #1
Pages: 320
My Review
: I had forgotten how funny and entertaining Mary Connealy's stories can be! This one pulled me in from the time Ruthy gets swept away in a flood and kept me hooked until the very last page.
Ruthy MacNeil is a hard working, smart, God-fearing woman who finds herself in one bad situation after another. Her attitude throughout the book reminds us that we should try to find the positive in any situation. Luke Stone is an honorable, tough man bent on revenge. As the story goes on, we find his priorities lining up better with the God he was raised to know and love.
With witty dialogue, an action packed story, and God's reminder that revenge belongs to Him, this is another fantastic story by Mary Connealy!
About the Author
: Mary Connealy is the bestselling author of romantic comedy with cowboys. She is a Carol Award winner and a Rita and Christy and IRCC Award Finalist.
She is the author of The
Trouble in Texas series, Swept Away, Fired Up
and
Stuck Together
,
The Kincaid Brides Series, Out of Control, In Too Deep
and
Over the Edge.
The Sophie's Daughters Series, Doctor in Petticoats
, a Rita Award finalist,
Wrangler in Petticoats
and S
harpshooter in Petticoats
. These three books are now contained in the single volume
Sophie's Daughters Trilogy.
The Montana Marriages Series, Montana Rose, The Husband Tree and Wildflower Bride
. Montana Rose was a Carol Award Finalist. These three books are now available in the single volume
Montana Marriages Trilogy
.