I am a big fan of Tracie Peterson. While not all of her books make my favorite list, I thoroughly enjoy reading every one of them! This book was no exception. I picked this book to read because it was a group read on my Goodreads group:
Christian Fiction Devourers
. We have a lot of fun in this group, so if you aren't a part of it, join us today!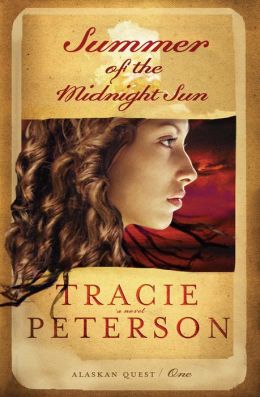 Overview
: Leah Barringer and her brother, Jacob, have come to love the rugged Alaskan Territory they call home.
But when Jacob determines to join an arctic expedition, Leah realizes her heart yearns for more than this solitary existence.
The unexpected arrival of Jayce Kincaide, the man who spurned her ten years before, awakens feelings that Leah would much prefer to leave buried. As Jayce sets out to prove he's a changed man, Leah cannot deny the effect he once again has upon her. But the appearance of a young investigator casts a cloud over Jayce's past...and over Leah's dreams for the future.
ISBN-13:
9781585588701
Publisher: Baker Publishing Group
Publication date: 3/1/2006
Series:
Alaskan Quest Series
, #1
My Review: As I stated at the beginning, I am a huge fan of Tracie Peterson. Her books are always good and entertaining. I've not read one that I haven't enjoyed. Summer of the Midnight Sun was no exception. The story is set in the beautiful and rugged Alaska. Tracie Peterson's description of the land and the ways of life of the people who lived it back then is phenomenal. She makes the setting come to life and become an integral part of the story. I could picture the land and the story taking place as I was reading, which I really enjoy!
The characters were well-written, but I feel their development was shallow. Both Leah and Jacob are strong Christian characters already, so there wasn't much development for them. Leah does grow up throughout the story and you can see her mature to her thirty years. Jacob struggles with his faith a little when he meets Helaina, but overall he kept his feet on solid ground. Jayce's development could have been so much more! At the beginning of the story, we learn that he is a new Christian. I didn't feel like he learned or grew much throughout the story. The biggest development was in Helaina. Though she hasn't come to fully except anything, she is beginning to question herself and her beliefs.
I thoroughly enjoyed the conversations between Jacob and Helaina. While some might view this story as a bit preachy, I didn't. We could all follow Jacob's example of witnessing to Helaina. Forgiveness and trust are also present messages in the story. Overall, this was a good read. I would recommend it to any Tracie Peterson fan!
About the Author
:
Tracie Peterson is an award-winning, best-selling author of over 95 books. Having given her heart to Jesus at the young age of six, Tracie has always felt called to some form of ministry, and writing fulfills that mission field.
Tracie received her first book contract in November, 1992 and saw A Place To Belong published in February 1993 with Barbour Publishings' Heartsong Presents. She wrote exclusively with Heartsong for the next two years, receiving their readership's vote for Favorite Author of the Year for three years in a row.
In December, 1995 she signed a contract with Bethany House Publishers. Tracie now writes exclusively for Bethany House Publishers. She has co-written with a variety of authors including Judith Pella, Judith Miller, James Scott Bell and her daughter Jennifer.
Throughout her writing career Tracie has found time to speak at writer's conferences where she has a special heart for new authors. She is often joined by her husband Jim, whose background in history offers new authors insight into research. Besides teaching at conferences, Tracie also at one time managed Barbour Publishing's Heartsong Presents book line - overseeing the production of 52 books a year. Tracie teaches at women's conferences around the country and shares her testimony and insight for Christian living through the eyes of an author passionately in love with her Heavenly Father.
Tracie was awarded the Romantic Times Career Achievement Award for 2007 Inspirational Fiction and the 2011 Lifetime Achievement Award from American Christian Fiction Writers. Her books have won numerous awards for favorite books in a variety of contests, including USA "Best Books 2011" Awards, best Religious Fiction for Embers of Love!.
Making her home in Montana, this Kansas native enjoys spending time with family--especially her three grandchildren--Rainy, Fox and Max..