Cowgirl Trail
is the fifth book in the
Texas Trails: A Morgan Family Series.
The series was written by a collaboration of three authors: Vickie McDonough, Susan Page Davis, and Darlene Franklin. It's been a great series so far, and I look forward to reading the rest!
Overview
: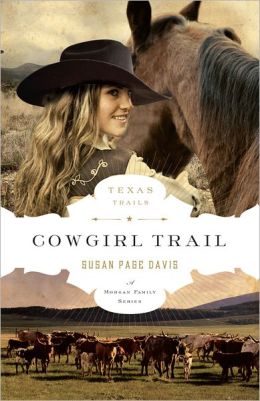 A young woman determined to save the family ranch
A devastating loss
An answer to prayer as shots are fired
Maggie Porter returns to the Rocking P Ranch. The sanatorium was not able to save her mother and now her father's health is failing. When the cowboys walk off the job leaving no one to drive the cattle to market, head ranch hand, Alex Bright, cannot convince the men to stay. How could Alex let this happen?
Maggie is desperate to save the ranch. To everyone's surprise, she turns to the town's women for help. The cowgirls must herd, rope, and drive the cattle to market. With only two days left, outlaws charge the small band in an effort to start a stampede. The cattle begin to scatter. Will they lose everything? Where will their help come from?
Doubt meets hope, and fear gives way to faith in the Morgan family.
My Review
: I loved this book! Susan Paige Davis executed the story phenomenally. I have never read another book with this concept, and it was fun and exciting to follow the cowgirls on the trail! The author chose to focus more on the story than scenery, which I appreciated because the story was so captivating. In a man's world, can a group of twelve women make it? I was cheering for Maggie from the beginning.
The characters in the story were easy to relate to. Maggie Porter is a strong, spunky, independent woman who is still in touch with her emotions and feelings. That's a refreshing thing in a woman character. Alex Bright feels torn between his loyalty to Maggie's father and herself, and the men that he was chosen to lead. He knows he can't choose both. What a hard decision!
The message of the story was simple, yet understated. Sometimes, even when we can't see the outcome, we have to rely on God and rejoice in our current circumstances. Have you ever been in a situation that you've had a hard time rejoicing? I know I have. That is God molding and making you in the refiner's fire!
Overall, this was a short, sweet story and I recommend it to anyone who wants to read about cowgirls leading a cattle drive!
**I received this book free from Moody Publishers in exchange for my honest review, which I have given.**
More fun! with links: