One gorgeous ex-pro hockey player with a broken heart.
One single, Christian girl full of determination.
One house that they're both committed to renovate.
One God who has bigger plans.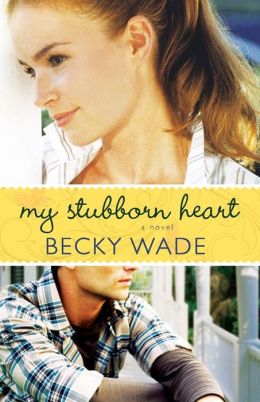 Overview
: Kate Donovan is burned out on work, worn down by her dating relationships, and in need of an adventure. When her grandmother asks her to accompany her to Redbud, Pennsylvania, to restore the grand old house she grew up in, Kate jumps at the chance.
Upon her arrival in Redbud, Kate meets Matt Jarreau, the man hired to renovate the house. Kate can't help being attracted to him, drawn by both his good looks and something else she can't quite put her finger on. He's clearly wounded--hiding from people, from God, and from his past. Yet Kate sets her stubborn heart on bringing him out of the dark and back into the light...whether he likes it or not.
When the stilted, uncomfortable interactions between Kate and Matt slowly shift into something more, is God finally answering the longing of her heart? Or will Kate be required to give up more than she ever dreamed?
ISBN-13:

9780764209741


Publisher:

Baker Publishing Group


Publication date:

5/1/2012
My Review: This is such a fun, lighthearted read. I thoroughly enjoyed Becky Wade's writing style. The story is both humorous and fun, yet it has a powerful message. I fell in love with the little town of Redbud and Chapel Bluff through the pictures the author painted. The interaction between the characters was comical and the dialogue felt very realistic.
I loved Kate Donovan. Her character was smart, funny, strong, and yet so human. Her actions spoke of her faith in God, but she wasn't written as a saint. She recognized her faults and worked to keep them in check. It's refreshing to see a Christian author write such human characters. Matt Jarreau's character really struck me, on a very personal level. His actions and personality at the beginning of the story spoke of his great loss and his anger and bitterness toward God. He, also, was written as a very human character. It's hard to capture the emotion and grief a person goes through after a loss, and Becky Wade did an amazing job. The supporting characters were just as great! I loved the "seniors" and their role in the story. Their interaction with Kate and Matt kept the story fun and interesting.
The romance between Matt and Kate was well written, yet not overplayed. The Christian message was two fold. For Matt, learning that God forgives and is always there for you, even when you can't see Him or feel Him through your hurt, was the hardest. Kate's role in Matt's life was to help bring him to that realization through her interactions with him. Kate, while strong in her faith, struggled with learning that God's way is the best way, even when you don't think so.
Overall, this is a fun, lighthearted romance with a great message. I highly recommend it!
About the Author
: Becky makes her home in Dallas, Texas with her husband, three children, and one adoring (and adored) cavalier spaniel. Her CBA debut,
My Stubborn Heart
, was a finalist in both the RITA and INSPY awards.
Undeniably Yours
kicked off her Texas-set Porter Family series. Her newest contemporary romance,
Meant to Be Mine
, has just hit shelves!