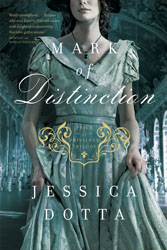 Overview: London is said to be the glittering jewel of society, a world unto itself—but to Julia Elliston it is a city of shadows. Her life is swiftly dissolving into scandal. And in Victorian society, even a whisper of scandal—substantiated or not—can be the death of a young woman's reputation.
Now under the watchful eye of Lord Roy Pierson, one of most influential men in England, Julia begrudgingly accepts his protection. But Chance Macy's power is far-reaching as well, and he is eager to assert his claim over her.
Thrust into society as the Emerald Heiress, Julia is the toast of London, a celebrated curiosity. But in reality she's trapped between the clutches of two powerful men. Aided only by a gentleman whose intentions she prays she can trust, Julia must finally take control of her own fate—but outwitting one's foe rarely goes according to plan.
ISBN-13:

9781414375564
Publisher: Tyndale House Publishers
Publication date: 4/18/2014
My Review: This book, much like the first, is a Victorian Gothic style that will be sure to entrance readers who enjoy the works of Jane Eyre and Northanger Abbey. It is dark and menacing, with many twists and turns that keep you turning the pages and biting your nails until the very end. The author did a wonderful job of making the story flow. It could have been a very depressing book, because a lot of bad things happen in succession to Julia, but Ms. Dotta sprinkled just enough action and intrigue to keep the reader from being bogged down.
I am SO happy with the way Julia progressed, as a character. The first half of the book, I pitied her and her situation. Her actions were selfish, but I understood them. Her very identity had been stripped from her and she was struggling to come to terms with who she was. Her faith in God was being formed and tested and she was beginning to lose herself until she finally surrendered. The supporting characters were different in this story than they were in the first book because she had been stripped from her familiar surroundings and thrust into another world. Lord Pierson is a powerful, but troubled, man. I wanted to dislike him, but Jessica Dotta wrote his character in a way that made me grudgingly respect him instead. He is the typical man, not good with his emotions, but she gave him just enough to make him human. Isaac is Julia's saving grace. He is gentle, where her father is gruff. He is kind and accepting, when Julia is hard and distrusting. He helped shaped her character in more ways that she realizes throughout this book.
As I have previously stated, Jessica Dotta is a master storyteller. The events and character development seem so natural. The story was nail biting, fast paced, and packed with intrigue and suspense. The ending was so unexpected, but I wanted to shout for joy! I absolutely enjoyed the story and cannot wait until the third, and final book comes out!
**Thank you, Tyndale House Publishers for providing me with a complimentary copy of this book in exchange for my honest review.**
About the Author: Born in the wrong century–except for the fact that she really likes epidurals and washing machines–Jessica Dotta writes British Historicals with the humor like an Austen, yet the drama of a Bronte.
She resides lives in the greater Nashville area—where she imagines her small Southern town into the foggy streets of 19th century London. She oversees her daughter to school, which they pretend is an English boarding school, and then she goes home to write and work on PR. Jessica has tried to cast her dachshund as their butler–but the dog insists it's a Time Lord and their home a Tardis. Miss Marple, her cat, says its no mystery to her as to why the dog won't cooperate. When asked about it, Jessica sighs and says that you can't win them all, and at least her dog has picked something British to emulate.