Four best-selling novelists bring tales of four Southern women who face near impossible choices on their journeys in life and in love during the most turbulent decade of our nation's history in Among the Fair Magnolias.
Don't miss this collection of stories from Tamera Alexander, Shelley Gray, Dorothy Love, and Elizabeth Musser.
A Heart So True by Dorothy Love: This was such a sad, sweet story. The setting at Pawley's Island made me want to go to the beach! I was rooting for Abigail and Wade throughout the story. I'm glad we got to see Charles' true colors because I didn't like him from the moment he stepped on the scene. I love how the author portrayed the relationship between father and daughter at a time when tides were changing. He wanted to protect her future, but couldn't see past his own political ambitions to the real Charles. Overall, I really enjoyed this sweet story.
To Mend a Dream by Tamera Alexander: As always, I am delighted by Tamera Alexander's story. They never fail to evoke my emotions. This sweet story is no exception. I remember reading about Savannah first in To Win Her Favor, A Belle Meades Plantation Novel. I'm glad to see her here again and learn more about her and her family. Her sweet, unassuming nature drew me to her and I was praying for her to find what she so desperately sought. Aidan was such a gentleman. He is not at all what I expected in a man from Boston being portrayed in a Southern state. I really enjoyed his soul searching. I think Savannah sums up the message nicely in her thoughts at the end of the book: ...marveling at God's quiet orchestration of lives and realizing she'd likely never know how often the Almighty did this. How often he interlaced such painful parts of this earthly journey with such joyous ones, weaving them together with such skill and grace. And beauty." I couldn't have said it better myself!
Love Beyond Limits by Elizabeth Musser: This story addresses a very scary time in our nation's history. Freedmen and plantation owners are working to find their places in this new and scary world. Bring in those Southern Democrats who feel white supremecy should be brought back and the Klu Klux Klan, and you've got yourself an interesting story filled with love, hate, and God's quiet orchestration in our lives. I loved Emily's character for sticking to her beliefs, even though they were not popular in that time period. Her desire to do what's right for her fellow man, and her belief that all men are created equal in God's eyes was very forward for the time, especially for a woman. I admire her for that and want to strive to be that way in my own life.
An Outlaw's Heart by Shelley Gray: Hearing about Scout Proffitt and Will McMillan from Shelley Gray's Heart of a Hero series brought back memories of reading those fantastic books. I loved them as much as I loved this story! Both Nora and Russell dealt with situations that, for young people, can change the course of your life and sometimes not for the better. Coming back home and fixing those wrongs can sometimes be a scary and daunting task. It was brave of Russell to do so, and I admired him for the bravery. I could even tell that his mother and Nora deeply regretted the way they treated Russell those seven years ago. This was a sweet, sweet story and the perfect way to end this fantastic collection of novellas.
Overall, Among the Fair Magnolias is an enchanting collection of novellas that sweeps the reader into the beauty and heartbreak of the "Old South." I was immersed into a world of change along with the heroines of each story. With a strong message about God's orchestration and heavenly interference in our life, this collection on novellas will immerse you into a world of faith, love, turmoil, and uncertainty. I highly recommend this sweet, southern collection.

*I received a complimentary copy of this book from the publisher through the Litfuse blogging program in exchange for my honest review.*


Landing page:
Join the authors in celebrating the release of Among the Fair Magnolias by entering to win their Southern Hearts Kindle Fire Giveaway and RSVPing to their August 13th author chat party!
One grand prize winner will receive:
A Kindle Fire HD 6
One copy of Among the Fair Magnolias
Enter today by clicking the icon below. But hurry, the giveaway ends on 8/13.
The winner will be announced at the
Among the Fair Magnolias Facebook party
. RSVP for a chance to connect with Tamera, Dorothy, Shelley, and Elizabeth, as well as for a chance to win some great prizes!
RSVP today and spread the word—tell your friends about the giveaway via FACEBOOK, TWITTER, or PINTEREST and increase your chances of winning. Hope to see you on the 13th!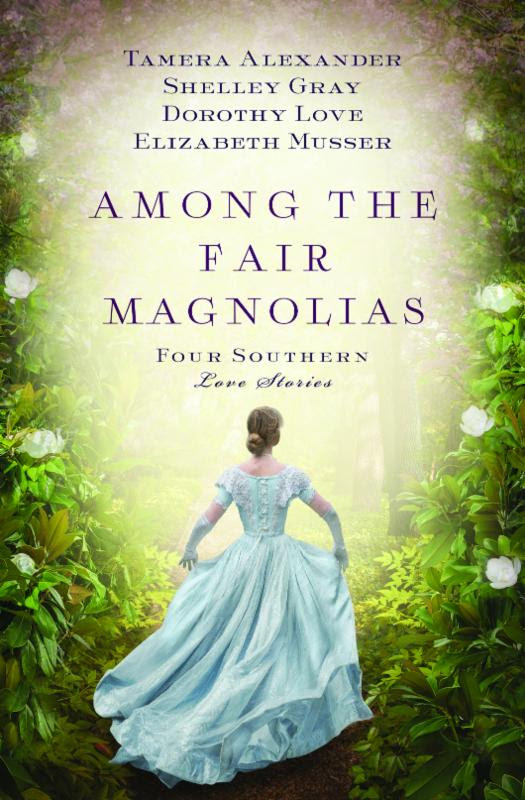 About the book:
Among the Fair Magnolias
(Thomas Nelson, July 2015)
In the most turbulent decade of our nation's history, four Southern women---destinies forged by birth, hearts steeled by war---face near impossible choices on their journeys in life . . . and in love.
To Mend a Dream by Tamera Alexander
Savannah Darby would do almost anything to revisit her family home. So when new owner, Aidan Bedford, a Boston attorney and former Union soldier, seeks to redecorate the house for his fiancée, Savannah jumps at the opportunity. But the clock is ticking. Can she find the box her father supposedly hid there during the war before her assignment is completed? And before she sees yet another battle lost on the home front. This time, one of the heart.
An Outlaw's Heart by Shelley Gray
When Russell Stark returns to Fort Worth, he's determined to begin a new life. But when he arrives at his mother's homestead, he discovers she's very ill, and the woman he loved is still as beautiful and sweet as he remembered. With time running out, Russell must come to terms with both his future and his past.
A Heart So True by Dorothy Love
Abigail knows all too well what is expected of her: to marry her distant cousin Charles and take her place in society. But her heart belongs to another. A terrible incident forces Abby to choose between love and duty.
Love Beyond Limits by Elizabeth Musser
Emily has a secret: She's in love with one of the freedmen on her family's plantation. Meanwhile, another man declares his love for her. Emily realizes some things are not as they seem and secrets must be kept in order to keep those she loves safe.
About the authors:

Tamera Alexander
is the best-selling author of numerous books including
A Lasting Impression
and
The Inheritance
. Tamera is a two-time Christy Award winner, two-time RITA winner, and a recipient of the prestigious Library Journal Award. A native of west Tennessee.
website
,
Twitter
,
Facebook
Dorothy Love
makes her home in the Texas hill country with her husband and their golden retriever. An award-winning author of numerous young adult novels, Dorothy made her adult debut with the Hickory Ridge novels.
website
,
Twitter
,
Facebook
Shelley Gray
is the author of The Heart of a Hero series. Her Amish novel (written as Shelley Shepard Gray),
The Protector,
recently made the New York Times best seller list.
website
,
Twitter
,
Facebook
Elizabeth Musser
, a native of Atlanta, Georgia now living in France, is a novelist who writes what she calls 'entertainment with a soul.' For over 25 years, Elizabeth and her husband, Paul, have been involved in mission work with International Teams.
website
,
Twitter
,
Facebook