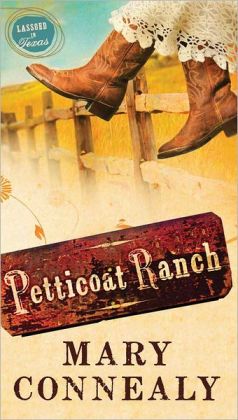 Overview
: Sophie Edwards is doing just fine alone, until a strange-yet oddly familiar-man rides into her life, insisting on rescuing her and her four daughters. Can she find a way to love a headstrong mountain man? When Clay McClellan discovers his brother has been murdered, he's bent on finding the killers and seeing them properly hung. But first his Christian duty demands that he marry his sister-in-law. After all, Sophie needs someone to protect her - right? Faith and love help unruly wed newlyweds find common ground and a chance at love on the Texas frontier.
ISBN-13: 9781620297957 | Publisher: Barbour Publishing, Incorporated
My Review: This was probably one of the first Christian Historical Fiction books I ever read, and I've re-read it plenty of times since 2010. Mary Connealy never fails to entertain. Her books are action-packed. Her characters are strong, witty, and stubborn. Her messages are well thought out and integrated seamlessly into the story. I was laughing to the point of tears at the antics of Sophie's daughters and the banter between Clay and Sophie. I was on the edge of my seat, rooting for Clay, Sophie, and the girls to win the fight for the ranch. On a more serious note, the message of the story was clear: "Dearly beloved, avenge not yourselves, but rather give place unto wrath: for it is written, Vengeance is mine; I will repay, saith the Lord." (Romans 12:19) The way in which each character in the story contemplated these words and the Lord resonated with me.

Overall, if you're looking for an action-packed, faith based, laugh out loud story, look no further than Petticoat Ranch by Mary Connealy.
About the Author
:
Mary Connealy is the bestselling author of romantic comedy with cowboys. She is a Carol Award winner and a Rita and Christy and IRCC Award Finalist.

She is the author of The Trouble in Texas series, Swept Away, Fired Up and Stuck Together, The Kincaid Brides Series, Out of Control, In Too Deep and Over the Edge.
The Sophie's Daughters Series, Doctor in Petticoats, a Rita Award finalist, Wrangler in Petticoats and Sharpshooter in Petticoats. These three books are now contained in the single volume Sophie's Daughters Trilogy. The Montana Marriages Series, Montana Rose, The Husband Tree and Wildflower Bride. Montana Rose was a Carol Award Finalist. These three books are now available in the single volume Montana Marriages Trilogy.