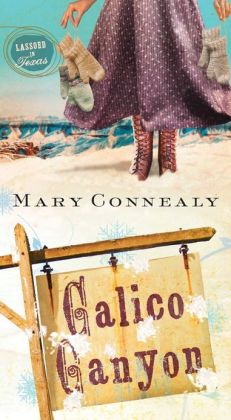 Overview
: Let yourself be swept away by this fast-paced romance, featuring Grace Calhoun, an instructor of reading, writing, and arithmetic, who, in an attempt to escape the clutches of a relentless pursuer, runs smack dab into even more trouble with the 6R's - widower Daniel Reeves, along with his five rowdy sons. When a marriage is forced upon this hapless pair - two people who couldn't dislike each other more - an avalanche isn't the only potential danger lurking amid the shadows of Calico Canyon. Will they make it out alive? Or end up killing each other in the process?
ISBN-13: 9781624162190 | Publisher: Barbour Publishing, Incorporated
My Review: Calico Canyon is another riveting, action-packed, heart-warming romance from Mary Connealy. Grace Calhoun is a prissy schoolmarm trying to escape her past. Daniel Reeves is a rambunctious mountain man with 5 rambunctious children trying to eke out a living in the wild west. When these two come together, sparks fly (LITERALLY). After her hasty exit from the town of Mosqueros, Grace finds herself married to Daniel. The story gets a whole lot more interesting after that! Tempers flare, hats fly, and love abounds in this wildly exciting story. In the midst of it all, Mary Connealy teaches an important lesson: God is faithful, no matter what. "It is of the LORD'S mercies that we are not consumed, because his compassions fail not. They are new every morning: great is thy faithfulness." Lamentations 3:22-23
Overall, I really was swept away in this fast-paced romance. It's a great addition to the Lassoed in Texas series.
About the Author
:
Mary Connealy is the bestselling author of romantic comedy with cowboys. She is a Carol Award winner and a Rita and Christy and IRCC Award Finalist.

She is the author of The Trouble in Texas series, Swept Away, Fired Up and Stuck Together, The Kincaid Brides Series, Out of Control, In Too Deep and Over the Edge.
The Sophie's Daughters Series, Doctor in Petticoats, a Rita Award finalist, Wrangler in Petticoats and Sharpshooter in Petticoats. These three books are now contained in the single volume Sophie's Daughters Trilogy. The Montana Marriages Series, Montana Rose, The Husband Tree and Wildflower Bride. Montana Rose was a Carol Award Finalist. These three books are now available in the single volume Montana Marriages Trilogy.