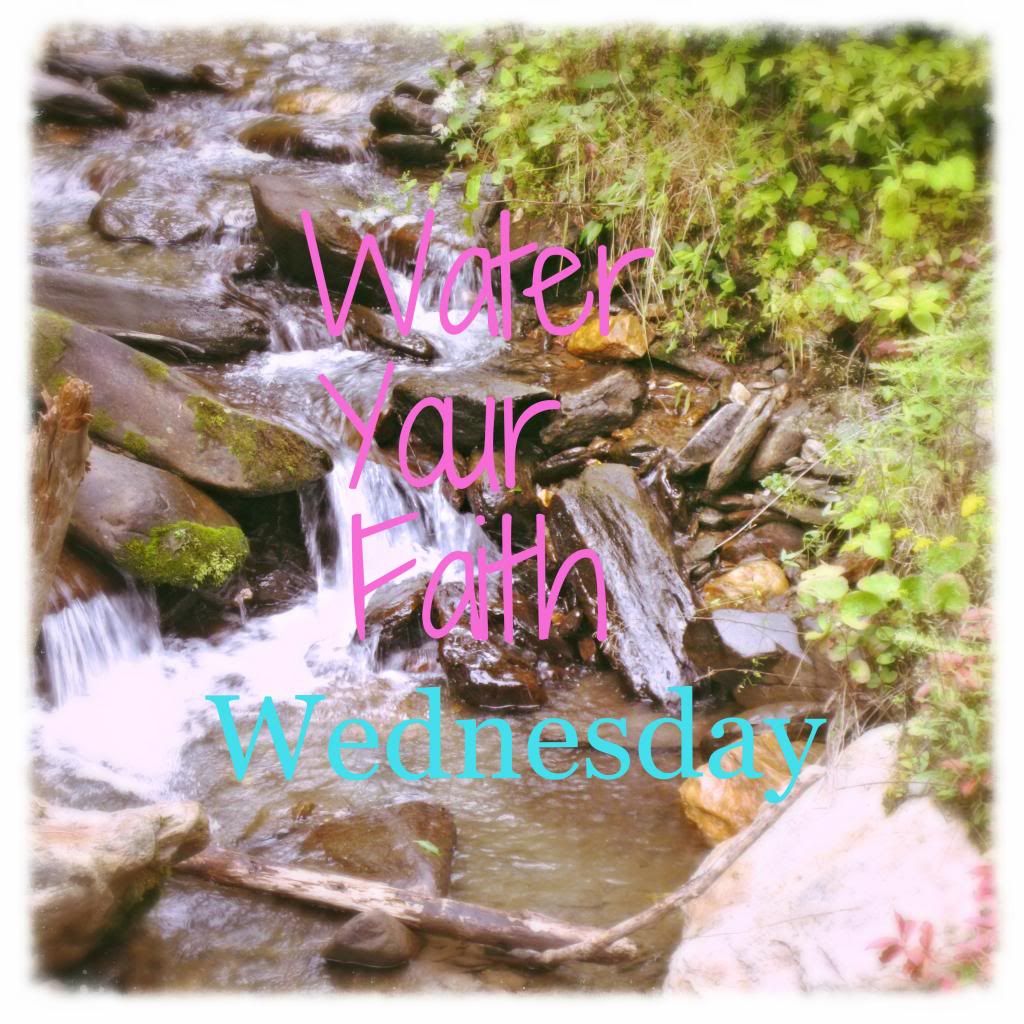 Hello everyone! Welcome to "Water Your Faith" Wednesday! How do you feel after spending your Sunday at church praising and worshiping our Lord? I know I feel great! I start my week fired up and ready to face what's in store. Oftentimes, however, by Wednesday, life begins to drag me down. My goal is provide a way to overcome the spiritual doldrums with encouraging words, scriptures, devotions, songs, etc. Let me know what you think!
My prayer this morning started out normal. Dear Lord, I thank you for this day and for everything you've given me. I thank you for your grace and mercy. Then I began listing my prayer requests (new and old). My fiance's grandmother - give her strength as she continues to heal. Thank you for her progress thus far. My friend's mother as she continues to heal. Be with her family and strengthen them. My co-worker's sister, as the doctors continue to run tests. Heal her body. Be with my co-worker, too, Lord you know his needs. As I was going through them, I realized that a lot of people I know are hurting, physically, emotionally, and spiritually. That brought to mind Mercy Me's song The Hurt and The Healer. Have you heard that song? It's absolutely fantastic!
The lyrics are beautiful. The chorus, though, is my favorite. It takes me back to the Bible verse that became my "mantra" at a difficult time in my life: "He heals the brokenhearted and binds up their wounds." Psalm 147:3 That verse, to this day, brings me heart comfort. To know that God can heal anything that damages my heart and spirit.
Listen to the song below, courtesy of YouTube. Have you heard it before? Has it touched your life, like it has mine? What verses or songs do you recall in difficult times in your life? I'd love to hear from you!
Broken things become blessed things when you let God do the healing.
Why?
The question that is never far away
The healing doesn't come from being explained
Jesus please don't let this go in vain
You're all I have
All that remains

So here I am
What's left of me
Where glory meets my suffering

I'm alive
Even though a part of me has died
You take my heart and breathe it back to life
I fall into Your arms open wide
When the hurt and the healer collide

Breathe
Sometimes I feel it's all that I can do
Pain so deep that I can hardly move
Just keep my eyes completely fixed on You
Lord take hold and pull me through

So here I am
What's left of me
Where glory meets my suffering

I'm alive
Even though a part of me has died
You take my heart and breathe it back to life
I fall into your arms open wide
When the hurt and the healer collide

It's the moment when humanity
Is overcome by majesty
When grace is ushered in for good
And all our scars are understood
When mercy takes it's rightful place
And all these questions fade away
When out of the weakness we must bow
And hear You say "It's over now"

I'm alive
Even though a part of me has died
You take this heart and breathe it back to life
I fall into your arms open wide
When The hurt and the healer collide

[x2:]
Jesus come and break my fear
Wake my heart and take my tears
Find Your glory even here
When the hurt and the healer collide

Jesus come and break my fear
Wake my heart and take my tears
And find Your glory even here