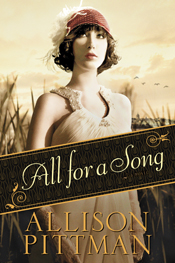 Overview
: Dorothy Lynn Dunbar has everything she ever wanted: her family, her church, her community, and plans to marry the young pastor who took over her late father's pulpit. Time spent in the woods, lifting her heart and voice in worship accompanied by her brother's old guitar, makes her life complete . . . and yet she longs for something more.
Spending a few days in St. Louis with her sister's family, Dorothy Lynn discovers a whole new way of life—movies, music, dancing; daring fashions and fancy cars. And a dynamic charismatic evangelist . . . who just happens to be a woman. When Dorothy Lynn is offered a chance to join Aimee Semple McPherson's crusade team, she finds herself confronted with temptations she never dreamed of. Can Dorothy Lynn embrace all the Roaring Twenties has to offer without losing herself in the process?
Publisher: Tyndale House Publishers
Publication date: 2/1/2013
Edition description: Reprint
My Review: I wasn't sure how I was going to like this book when I first started it. I actually started and stopped this book, twice, before picking it up to read it again; not because it was boring, but because I wasn't sure how I would feel about it once I got into the story. I worried for nothing. This is the first book I've read written in this time period (I think), and I wasn't disappointed. From the moment Dorothy Lynn comes running home, I was captured. The story was impeccably written, switching from present day to past seamlessly. The descriptions of the characters and their emotions and feelings swept me away and I felt as if I was actually part of the story.
Dorothy Lynn Dunbar is an exciting character. She is simple and pure and honest and refreshing all at once. The author does a fantastic job of portraying Dorothy's emotions and feelings throughout the story. So much so that I could sympathize with her and could feel her confusion as she faces things she never dreamed she'd face. Roland Lundi and Brent Logan represent two sides of Dorothy's story. Each are equally intriguing, and provide fantastic secondary characters for Dorothy's interactions.
This story, written as a kind of prodigal son story, has some deep truths imbedded within. I loved the scripture that was quoted at the beginning of each present day Dorothy's parts. As the author states, "All for a Song is ultimately a story of longing, of searching for what you think you lack." Cheering Dorothy on as she faces temptation head on with the Love of Christ at her side, weeping with her as she finds herself and the feeling of God's grace, and longing to return home with her will keep you turning the pages to find out what she does.
I cannot wait to get my hands on the next book in the series, All for a Story, as soon as I can!
About the Author
: Award-winning author Allison Pittman has penned more than twelve novels, including her series set in the Roaring Twenties—All for a Song, All For a Story, and All for a Sister. Allison resides in San Antonio, Texas, with her husband, Mike, their three sons, and the canine star of the family—Stella.