Hello all! I am excited to bring you this book review because it's the first group read I have done with the
Christian Fiction Devourers
group on Goodreads.com! We vote on a book each month to read as a group. Since I had other reading commitments this month, I didn't get to read
Fancy Pants
until now, but I enjoyed reading the discussions in the group!
From Barnes and Noble: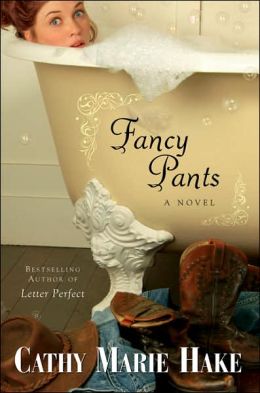 Overview:
When "Big Tim" Creighton spies the mincing fop headed toward Forsaken Ranch, he is appalled. Thankful his boss isn't around to witness the arrival of his kin, Tim decides he'll turn "Fancy Pants" Hathwell into a man worthy of respect.
Lady Sydney Hathwell never intended to don men's attire, but when her uncle mistakenly assumed she was a male, the answer to her problems seemed clear. Her disguise as "Syd" was meant to be temporary...but the arranged marriage she's fleeing, her uncle's attitude toward the fairer sex—and her own pride—compel her to continue the guise far longer than she had intended.
When her deception is exposed, will she be forced to abandon her hopes for family...and true love?
My Review:
I thought this was a very enjoyable book. From the beginning of the book, when Lady Sydney Hathwell starts scheming, I was hooked. Lady Hathwell is running from a future she doesn't want and into new adventures and places she's never been. She is a strong-willed and independent, albeit proper, girl with a mind of her own. She enjoys the freedoms being an American brings her. Her running brings her to the Forsaken Ranch and right into the arms of Tim Creighton. Tim is a rough around the edges man whom you can't help but fall for (once you get past the gruffness).
There was a part of the story that I felt were not quite necessary. The "villian" aspect, as a friend points out in the group discussion, felt unhashed and not vital to the story's development. The romance part also felt a little rushed. There was no "ah-ha" moment that makes most romance lovers swoon. The spiritual aspect of the story, while some argue wasn't strong enough, was beliavable to me. Sydney's coming to faith seemed natural, to me. I also thought Tim's portrayal of the faith was real. He approached it one way when he thought Sydney was a boy and then more gently, but still firmly, when he found out the opposite.
Overall, I am very satisfied with this story. The plot is a little unbelievable, but that doesn't make the story any less enjoyable. The interaction and dialogue is excellent and the story was easy to follow along with. This won't be my last book by
Cathy Marie Hake
, for sure!
You can purchase this book at your favorite retailers, including,
Barnes and Noble.
I hope you enjoyed this review!!