Good morning all! It's started out to be a dreary day here at Topsail Island Beach. We are hoping it clears up so we can get some good beach time in, but it doesn't look promising. In the meantime, I would love to tell you about the fabulous book I just finished:
Anathema
by
Colleen Coble
. This was chosen as a TBR (To-Be-Read) Pairs challenge on the
Christian Book Lover's Hideaway
group on Goodreads.com.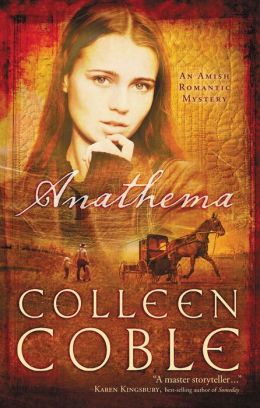 From Barnes and Noble:
Overview
:
Welcome to Parke County, Indiana
-
land of peaceful farms and covered bridges, Amish quilts and horse drawn buggies, romance and murder.
After years of running, Hannah Schwartz has finally built a life for herself-far from the close-knit Amish community who raised her, then shunned her. Still haunted by nightmare memories of her parents' murder and the guilty secret that made her anathema-a true outcast-from her friends and family.
Only love can bring her home again. Love for a child she had feared was lost forever. And love for the peaceful people who shaped her life. But can love heal old wounds . . . or keep the community safe from a deadly danger?
My Review: This is not your typical Amish book. I have always admired Colleen Coble's way with words and storytelling. She is a masterful writer and this book doesn't disappoint. I'll admit, I'm not normally a big fan of the Amish genre, but this one is definitely an exception. Throughout this whole book, Hannah is running away from God. She is a strong, intelligent woman who has been belittled by her husband since her parent's death. She struggles with her self-assurance and coming back to God throughout the story, and her struggles are real and something everyone can relate to. Matt, oh Matt. He seems like the dream guy. Strong, handsome, and a great father. He has his struggles too, like learning to trust God for all situations in his life. Again, this is something every single person can relate to in their Christian walk.
The plot is wonderful. There is enough mystery and romance in the book to keep anyone from getting bored with it. I also liked how each chapter started out with a tid-bit of knowledge from the Amish faith and their quilts. Those were particularly interesting to me. I also learned a lot about the Amish way of life and their belief system. The story line, told from multiple points of view, is interesting and intriguing. I didn't figure everything out until Hannah and Matt did.
Mystery, a little bit of love, and a lot of God's grace make this book a perfect 5 out of 5 in my mind. Check it out today!!
**You can learn more about the author by clicking on her name in the first chapter, and a link to the Barnes and Noble website by clicking on the title.**