Sadly, I finished the last book in Lisa T. Bergren's
Homeward Trilogy Series
,
Claim
. I loved this series which includes
Breathe
and
Sing
(you can view these reviews on my blog as well). This is a fantastic series about God's love and the love of a family. Let's get to my review!
From Barnes and Noble: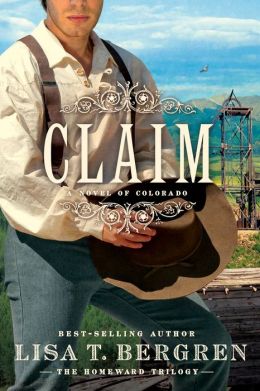 Overview:
Sent west by their father to make a new life, the St. Clair siblings have done so—but hardly as he'd wished. Beautiful, headstrong Moira, after pursuing a career on the Paris stage, has returned to Colorado Springs—older, wiser, and certainly much poorer—to see if there's anything left of a relationship she'd left behind. Older sister Odessa and her husband, Bryce, are struggling to rebuild their ranch after a devastating winter. And then Nic, the prodigal son, turns up—broken, haunted, and sick about leaving his sisters.
At last the family is reunited. But Dominic is still at loose ends, seeking a peace that has always eluded him. Only as he mines an old claim deep in the Rocky Mountains and begins a romance with a local schoolteacher does he begin to understand how passionately he is loved—by God, his family, and a good woman. But even as he relinquishes his fury, Nic discovers there is one last battle to fight…
My Review: As I said in the beginning, this was a very satisfying end to a series about three siblings and their fight for their lives. This book focused more on Dominic and Moira's struggle to return home and seek what they have been trying to find for years - peace. I loved reading about how God was working in each of their lives. You could see God wearing each of them down and bringing them back into the fold. But my favorite part of the story was watching Dominic grow to love, to learn to claim God's will for his life. That's what this book's subtle Christian theme was: claiming what God has in store for you and letting Him lead your life through faith in Him.
Lisa T. Bergren makes her characters believable She makes them real. She has a way of making the settings, characters, and plot feel so real and relatable. I admire that in any author. I really enjoyed this book, but I wish more of it was about Dominic. I felt like she focused a lot more on Moira than necessary, but that's ok. It didn't diminish my love of the family or this book. Go check it out! It's absolutely fantastic!
Upcoming Review: Be Still My Soul, The Cadence of Grace Series #1 by Joanne Bischof