Good morning everyone! It's well past time for this review. Good news though, I have one week left of my summer classes, then I have three weeks off! I will get plenty of reading done in those three weeks! I am very excited to be reviewing this book for you because it was excellent. This is the second book in the
Cadence of Grace
series, and the third one is expected to be released in October (sad I have to wait that long for it!) Without further adu, here's my review!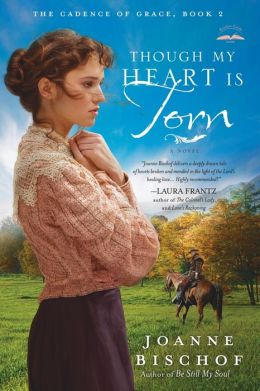 From Barnes and Noble:
Overview:
Gideon O'Riley has two wives—but he doesn't know it.

Settling into a simple life in the majestic Blue Ridge mountains, Lonnie and Gideon O'Riley have finally found happiness after the rocky start to their marriage. The roguish bluegrass musician has fallen in love with his gentle wife and the God she serves, and Lonnie rests secure in his tenderness for her and their young son. A heartless ruse interupts their peace, bringing them back to Rocky Knob—and forces them to face the claims of Cassie Allan, a woman who says she is Gideon's rightful wife.

As Gideon wades into the depths of his past choices, Lonnie is stunned by the revelations. She has no choice but to navigate this new path, knowing that surviving the devastating blow will take every ounce of strength she has.

While Gideon's guilt and his bitterness towards Cassie threatens to burn up his fledgling faith, Lonnie wrestles to find the courage to trust the God who brought them together in the first place. Will their hard-earned love be able to conquer all?

Lonnie only wanted her husband's love. Now that he belongs to another, can she surrender Gideon to a God with a bigger plan?
My Review:
This book was very hard for me to finish because it is so heartbreaking! Imagine: you
finally
get your husband to love you the way you deserve to be loved and he is ripped away from you! Joanne Bischof did an excellent job of describing the pain and heartache Lonnie and Gideon were feeling. You hurt along with them. Your heart breaks with theirs. While I don't particularly care for Cassie's parts in the story, you can't help but sypathize with her and feel her pain as well.
The message in the book is clear. God has a bigger plan for our lives and while we don't always agree with what's happening or see a way out, God does. We need to learn to lean on Him for everything. He can give us strength; He can give us peace in the midst of our storm. This story shows Lonnie and Gideon struggling to find strength in God's wisdom and power which is something we can all relate to. I'm very anxious to see how the story ends with the third book,
My Hope is Found
.
You can purchase this book here:
http://www.barnesandnoble.com/w/though-my-heart-is-torn-joanne-bischof/1113244454?ean=9781601424235
*I received this book for free from WaterBrook Multnomah Publishing Group through the Blogging for Books program for this review.*
CLICK HERE:
* to read the first chapter:
http://waterbrookmultnomah.com/blog/2013/01/09/sneak-peek-though-my-heart-is-torn-by-joanne-bischof/
*to learn more about the author:
http://waterbrookmultnomah.com/author-spotlight.php?authorid=157548
*to visit Joanne Bischof's website:
http://www.joannebischof.com/