I am so excited to be reviewing this book for you! I received the second book,
Though My Heart is Torn
, from the Blogging for Books program. Naturally, I had to read the first book in the series before I could read the second! Without further ado, here is my review:
From Barnes and Noble: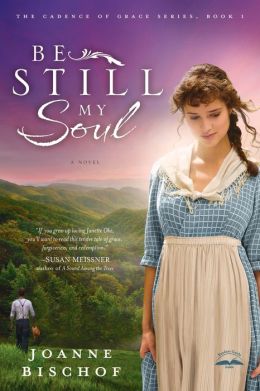 Overview
:
Night's chill tickled her skin. Lonnie pressed her hands together and glanced up. He was even more handsome up close. Having grown up the shy, awkward daughter of Joel Sawyer, she'd hardly spoken to any boy, let alone the one who had mothers whispering warnings in their daughter's ears and fathers loading shotguns.
Pretty Lonnie Sawyer is shy and innocent, used to fading into the background within her family, and among the creeks and hollows of the Appalachian hills. Though her family is poor and her father abusive, she clings to a quiet faith. But when handsome ladies' man and bluegrass musician Gideon O'Riley steals a kiss, that one action seals her fate.
Her father forces her into a hasty marriage with Gideon—a man she barely knows and does not love. Equally frustrated and confused by his new responsibilities, Gideon yearns for a fresh start, forcing Lonnie on an arduous journey away from her home in Rocky Knob.
My Review:
WOW! All I can say is WOW! This book is not a light read by any means, but it is fantastic. The description doesn't do the book justice. It doesn't even come close to describing the emotion that is tinged in every word these two characters speak. The characters are very well written. Lonnie, even though she's used to "fading into the background" can be a little sassy and can hold her own when she has to. Her faith is a "quiet faith" as the description states. I wish I could have that kind of faith! Her aunt is her source of comfort, so when her father forces her into this hasty marriage and takes her away from everything she's ever known,
"His eye is on the sparrow"
is all the faith she has left! Gideon surprises me. At times, he acts like he cares. At other times, you want to punch him in the face. He is mean and VERY angry at the hand he's been dealt. Through events in the story, you watch Gideon's faith take shape. I loved that about the story! He wants redemption, peace and slowly but surely, he finds it.
I cannot say enough good things about this book and this author! The plot moves along, not quickly, but not slowly enough to deter from the story. The characters are real. The author has a way of pulling you into their lives. Gideon reminds me of the story of the prodigal son. We all learn the same thing that Gideon did, as Gideon learns it. "Fear not: for I have redeemed thee, I have called thee by name; thou art mine."
GO READ THIS BOOK! You will not regret it! I am looking forward to reading the second book in the Cadence of Grace series, Though My Heart is Torn.