It's been awhile since I could finish a book back to back like this, but this is my last week of school for the summer so I decided to slack on my schoolwork a little (don't worry, I'm doing it today!). This book was too good to think about doing anything else and I'm kind of sad I have finished it. This was my first book by
Miralee Ferrell
and will definitely not be my last!
I want to thank
Lena Nelson Dooley
for providing me with a copy of this book as one of her many giveaways! Her author interviews are always insightful.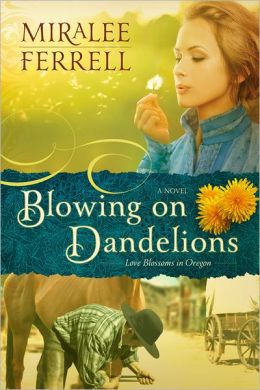 Overview
:
Do Dandelion Wishes Actually Come True?
Katherine Galloway knew this moment of calm wouldn't last, blown away like the dandelion seeds she scattered as a girl. In 1880, three years after her husband's death, she struggles to run an Oregon boardinghouse and raise two girls alone. Things don't get easier when her critical, domineering mother moves in. Katherine must make the situation work, but standing up for herself and her family while honoring her mother isn't easy. And with a daughter entering the teenage years, the pressure on Katherine becomes close to overwhelming. Then she crosses paths with Micah Jacobs, a widower who could reignite her heart, but she fears a relationship with him might send things over the edge. She must find the strength, wisdom, hope, and faith to remake her life, for everything is about to change.
My Review: "He that dwelleth in the secret place of the most High shall abide under the shadow of the Almighty. I will say of the Lord, He is my refuge and my fortress: my God; in him will I trust." - Psalm 91:1-2
This verse, stated at the beginning of the book, struck me as I read each chapter as the message the author wanted to get across. Katherine Galloway is a widow with two children to raise. Her mother, who is all the overview describes her to be and more, is coming to live with her again. Considering who her mother is, you would not expect Katherine to have the gentle, kind, and loving nature that she has. You hurt with her every time her mother cuts her down, and you cheer for her
every time
she stands up for herself (as little as it may be). When Micah Jacobs enters the picture, you are instantly drawn to him. You also want to shake him for his stubborn pride. He is hurting and trying to figure out how to heal, something everyone will be able to relate to at one time or another. He is also mad at God, which is another thing we can all relate to at one time in our lives or another. Katherine's mother, Frances, is a character to behold. Getting inside her head is not easy; she thinks she's helping when she's really hurting. You wonder what could have made her that way. With a cast of enticing supporting characters as well,
I commend the author on creating such wonderful characters.
The love story of the book, and the overall plot, is well thought out and was wonderful to see. I can relate to the struggle between staying loyal to your first husband/wife and your growing feelings for someone new. The author did a fantastic job capturing this aspect of each character. The tension created by Frances between herself and everyone else in the story was palpable. It felt like I was right there in the middle of it, and little Mandy was a great source of comic relief. There were no parts in the story that lagged, and it was a quick read. I wanted to see how the story played out. I wanted to know what would happen between Katherine and Micah.
Overall, I give this book 5 stars. Miralee Ferrell did an excellent job creating a story that almost everyone can relate to, whether it be to problems with parents, struggling to rely on God even when bad things happen, or facing new love when it feels wrong to give up the old love. I can't wait to see how the secondary characters come to play in the rest of the series. I'm eager to learn more out the mysterious Jeffrey Tucker, the shy Beth Roberts, and the eager Aunt Wilma Roberts. I'm also interested to see the children grow up, so I hope they play a role in the next books as well.
Check out this book, and more from Miralee Ferrell's Love Blossoms in Oregon series here:
*You can learn more about the author by clicking on her name in the first paragraph. You can learn more about Lena Nelson Dooley and her blog by clicking on her name in the first paragraph.*